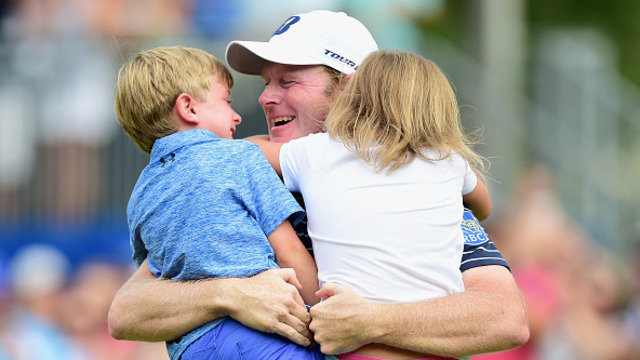 By David Boclair
The only thing on Brandt Snedeker's mind was to finish what he started.
The last thing he expected was to see his children waiting for him when he did.
Yet that is exactly what happened last August when the Nashville native notched his ninth — and most recent — PGA Tour title. Snedeker's young son and daughter ran into his arms and added to the celebration as he walked off the final green at the 2018 Wyndham Championship.
The scene unfolded courtesy of Steve Holmes, chairman of the board of directors for Wyndham Hotels. Holmes sent a plane to Nashville during the final round so that Snedeker's wife, Mandy, and children could be there to see him finish a tournament that he led from start to finish, beginning with his career-best 59 in the first round.
Wyndham Hotels is one of Snedeker's primary sponsors.
"They just showed up out of nowhere," Snedeker said, according to the Winston-Salem Journal. "And that meant a lot to me and that shows you right there what Wyndham and guys like Steve Holmes mean to me.
"Having my kids there meant so much because they actually saw me win, so I can tell them their dad does win sometimes."
Snedeker reflected on the moment this week during an appearance in Greensboro, N.C., to promote the 2019 Wyndham Championship, which is set for August 1-4 and is the final event before the start of the FedEx Cup playoffs.
It was a rare opportunity to look ahead. Next week he will be in Northern Ireland for the British Open and then comes WGC-FedEx St. Jude Invitational, July 25-28 in Memphis.
Snedeker currently is 30th in the FedEx Cup standings and has finished in the top 20 four times (the top 10 twice) in his last six events.
"It will be tough to come back as defending champion and there'll be expectations for sure," he said. "I'll have to focus. It's all great and good and dandy that I'm the defending champion, but I have to come back with the mentality to get off to a good start on that Thursday morning."
The way he figures it, though, defending the title can't be as hard as winning it.
"It was probably the hardest thing I had to do in my career was come back after that [first-round 59] because there are so many expectations, not just from myself, but from everybody else,"Snedeker said. "I had all this great stuff happen in the first round and those expectations were through the roof.
"That night after the 59 I kind of refocused, but now everybody expects me to win the golf tournament, and Wyndham is one of my biggest sponsors, so they expect me to win, so I can't let everybody down."
He didn't. And he even got to pick up his children.