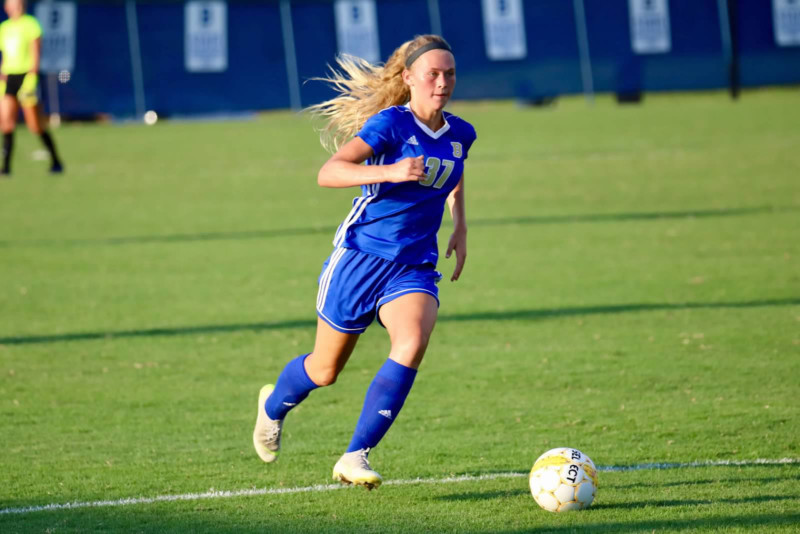 By MITCHELL STEPHENSON 
The Brentwood Lady Bruins hosted this WillCo girls soccer matchup against the Centennial Lady Cougars.
The game was stopped early, as the Lady Bruins were up 9-0 forcing the officials to stop the contest, a scoring frenzy for the home team.
Te Lady Bruins got off to a fast start as Emma Majors was credited with the first goal at the 33:30 mark off an error of Centennial to their goalkeeper making it 1-0.
From there the scoring was fast and furious. At 28:45 senior Morgan Greene scored giving the Bruins a 2-0 cushion.  A few minutes later Greene scored again, making it 3-0.
At 15:17 left in the half Brentwood added another goal as junior Maison Wells had the assist to Olivia Olmstead for the 4-0 lead.
After a few minutes from setting up several more offensive shots Haley Hannah scored increasing the lead to 5-0 at the 10:08 mark of the half.
At 4:13 sophomore Majors recorded the assist as she set up Wells for the score and a 6-0. That was the score going into the half.
Centennial fought hard the entire contest but just wasn't able to create offense against the tough Brentwood squad.
In the second half Brentwood kept the intensity high. Hannah added another score at 26:14 to make it 7-0. After two more goals the game was called with the Lady Bruins coming out on top with an impressive 9-0 victory.
Cougars head coach Gerardo Caceres shared his thoughts on the game.
"Brentwood has a really good team this year," Caceres said. "We have several freshman. We're rebuilding, and also it looks like Brentwood could go all the way this year…We're going to keep improving, and get tougher."
It should be noted that Lady Bruins standout goalkeeper Kate Devine has only given up one goal in the preseason and regular season, Tuesday's game another example.
Brentwood head coach Kersta Mello gave her thoughts on her teams performance.
"The girls played really well," she said. "Centennial came out hard, and fast, and ready to play. I feel we had a wake up moment, and we settled into the game nicely.
"We had some beautiful opportunities on goal that they created for themselves. Coming from the back, working the ball up top, and we're just really proud of how they played together tonight."
Brentwoods next game is Thursday against Ravenwood in the rescheduled Battle of the Woods. Centennial also plays Thursday, as they host Rossview.