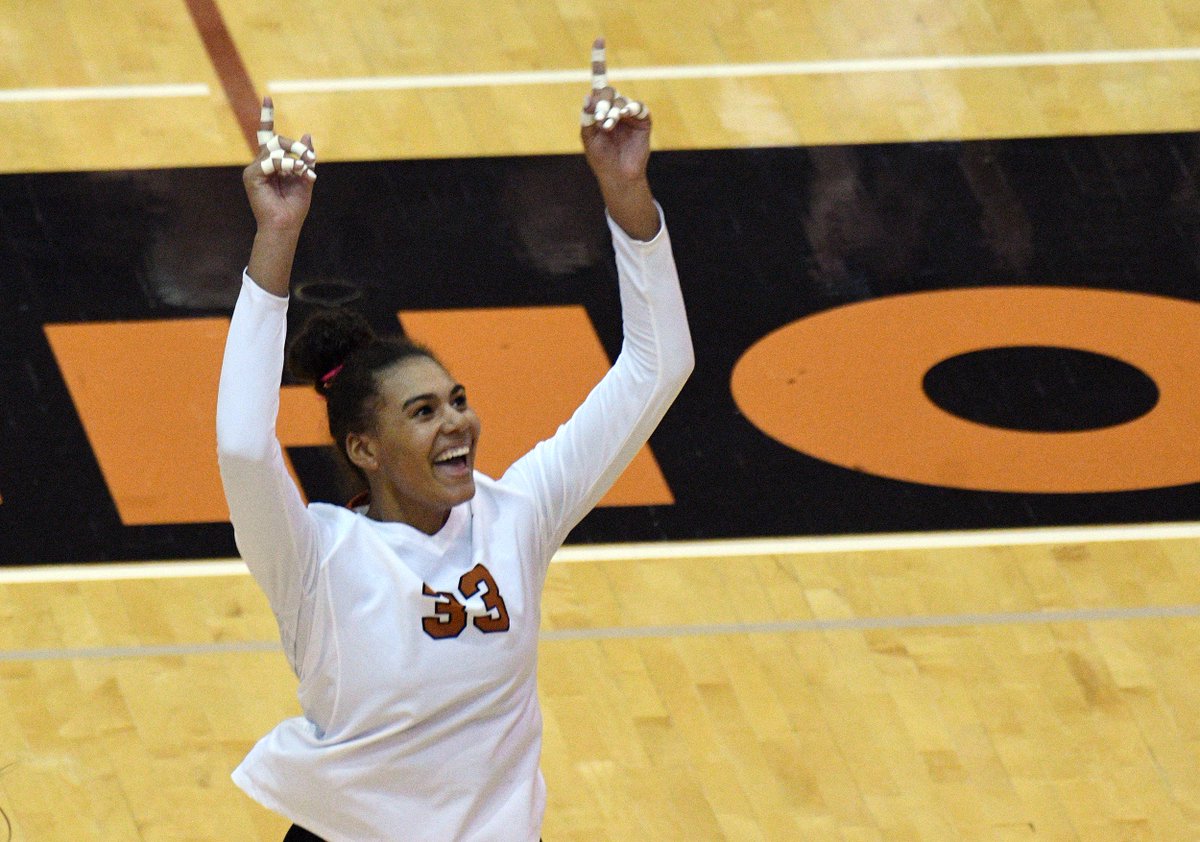 BY GRANT LEDGISTER 
Most athletes dream of being the best at their respective sport, but few are able to make that dream become reality.
Former Brentwood Lady Bruin and now-Texas volleyball standout Logan Eggleston is one such athlete who is seeing her dream come true, one step at a time.
"My goal is to play at the Olympics," Eggleston said. "That's why I'm playing; that's why I'm doing this."
Eggleston shined last fall in her freshman season with Texas, earning a Big 12 Freshman of the Year honor, as well as a place on the Southwest Regional Team and other season accolades. She also earned a spot on the 2018 U.S. Women's Junior National Team.
She wasn't always sure that volleyball was something she wanted to pursue. She started playing in fourth grade on a rec team, and it was a slow process of falling in love with the sport and deciding between volleyball and basketball.
The choice did eventually become clear.
"Over the years I started competing in more competitive rec leagues and started falling in love with it in middle school, when I realized I liked playing volleyball a lot more than I liked playing basketball," Eggleston said. "I had to break the news to my parents, and they were super supportive. They saw how much fun I was having and how much better I was getting at it."
Eggleston attended Brentwood for high school and helped the school win three state championships under coaching legend Barbara Campbell. She said she admired the history and legacy that players before her had left and wanted to win for those that came before her.
In any highly successful high school career such as hers, a lot of memories are made. For Eggleston, her favorite was the special final game of her junior season against Ravenwood, winning the final set by the score of 15-1.
"It was a really tough, long game that we ended up winning," Eggleston said. "I got to play with my sister [Shaye Eggleston] in that game, as well as two girls that I started playing volleyball with in the fourth grade."
Eggleston had lived in the Nashville area since she was four, so growing cities are what she is used to. This helped make the transition, city-wise, from Brentwood to Austin a little bit easier.
She's only a year into her college career at the University of Texas now, but she's already gotten a taste of the heightened competition that comes with playing against some of the best athletes in her age range. Practices and matches have been and will continue to be learning experiences that'll help her reach her goals.
"The speed of the game is so much faster," Eggleston said. "Tennessee volleyball isn't super competitive, so coming to Texas where the girls are playing really competitively every single game was a big adjustment."
Even though they play the same sport, the way the game is played at Texas is much different in comparison to Brentwood. She's had to make changes to the way she plays as a result.
"I have to find different ways to score and become smarter in the game to make sure I am as successful here as I was in high school." Eggleston said.
Playing at Texas has elevated Eggleston's play to a bigger stage, but with each bigger stage comes its fair share of challenges.
"There were a few times this last season where my confidence went down a little bit because I felt I wasn't playing my best, but I feel like I always know how to keep calm and consistent," Eggleston said. "I meet with my teammates to make sure that I'm not worried about myself and more worried about playing for them and make sure they're playing the best they can."
The impact that she has goes well beyond winning matches on the volleyball court, and Eggleston intends to use the three years before graduation inspiring the community around her through her play.
"There's so many little girls that have come to me and told me how much they look up to me," Eggleston said. "It's made me be aware that I'm always doing the right thing and playing my best."
Eggleston knows that there's more that goes into making it professionally than just her play. She is prepared to make use of those around her reach that level.
"My coach has a lot of connections," Eggleston said. "He's coached some really great players."
She is also doing more than just playing volleyball at Texas to try and reach her goal of playing at the Olympics. Eggleston has trained with the Women's Junior Training Team for the past three years and is doing so again this year.
Even though it is a big step towards her goals, playing for a national team such as the Junior Training Team is about more than just volleyball.
"I'm getting to play for something bigger than myself," Eggleston said. "I'm representing my country and meeting great friends in the process. Everyone's there fighting for a spot in the team, and everyone there is among the best players in the country."
Photo from Texas Athletics.