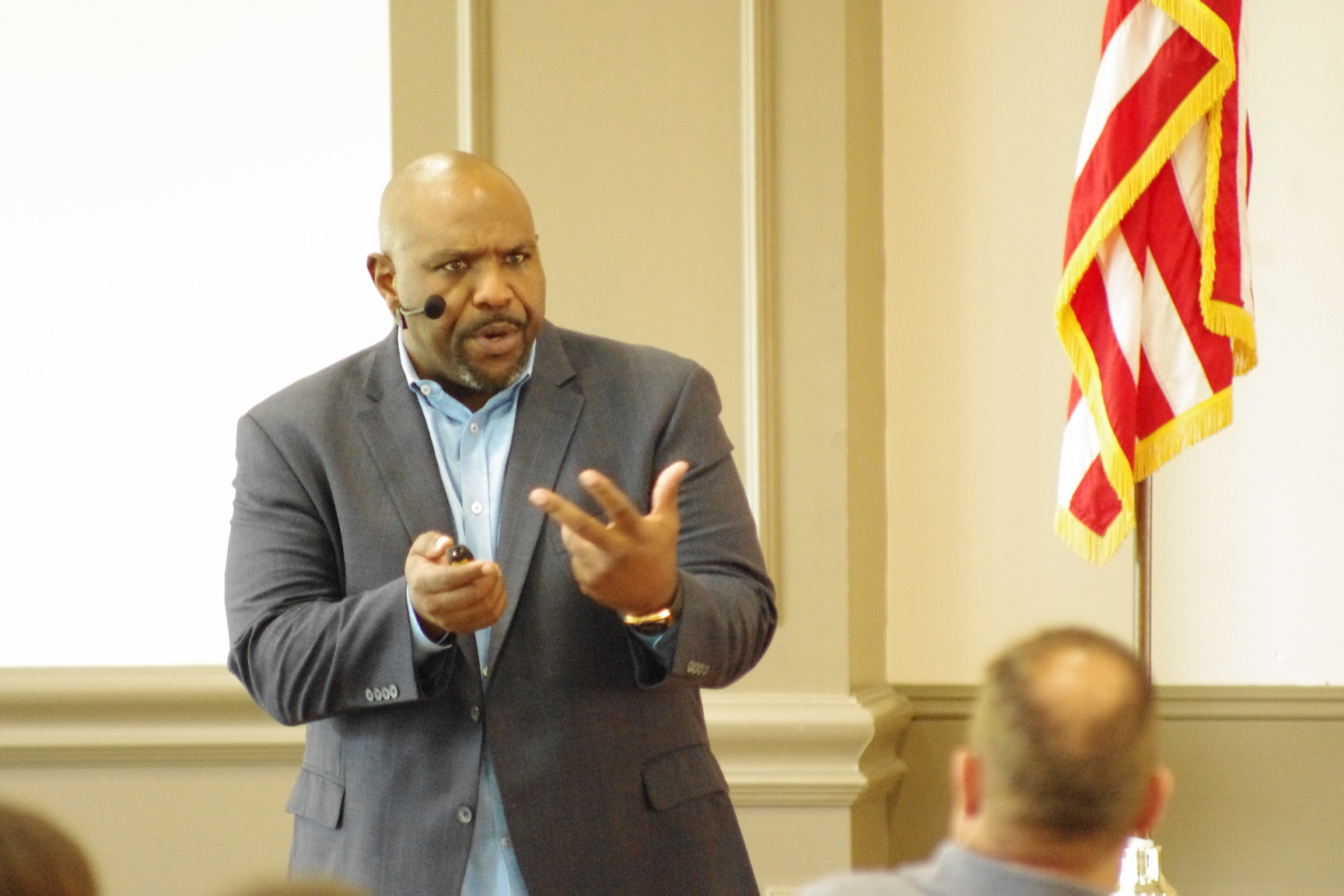 PHOTO: Chris Hogan breaks down 'the four C's' of leadership Tuesday at the UAW Hall in Spring Hill. / Photo by Alexander Willis
By ALEXANDER WILLIS
Best-selling author, personal finance expert and Spring Hill resident Chris Hogan was the featured guest Tuesday during the Spring Hill Chamber of Commerce monthly luncheon, with Hogan breaking down for guests what he believes it truly takes to be an effective leader.
One of only five select speakers on the Dave Ramsey Show, Hogan also hosts the Chris Hogan Show, a weekly broadcast that focuses on retirement, as well as investing and building wealth. Hogan is also a best-selling author, with his book "Retire Inspired" becoming a number one national best seller.
Sponsored by Vanderbilt Health, the chamber event saw Hogan, along with dozens of guests, join together at the UAW Hall off of Main Street. In his speech, Hogan was quick to lay out his philosophy on leadership.
"Tomorrow can be a brand new day," Hogan said. "What I figured out is [that] people can get amnesia – they'll forget about the mistakes you made just by showing that you care. So be different, be that kind of leader that they don't want to ever leave. As a leader, what we have to do is make a decision. Do you want to be a leader that's popular, or do you want to be effective?"
Standing in front of a slideshow projection towards the end of the UAW banquet hall, Hogan broke down four key components he believes are required to become the most effective leader possible; communication, care, connection and comfort zone. Before tackling what he called 'the four C's,' however, Hogan had a few other words of advice. 
For starters, Hogan said true leaders should consider ditching titles.
"If you're a business that's getting so caught up in titles, please throw that out the window, because when you stop getting wrapped up in titles, what you're telling your team is that you have an opportunity to grow," Hogan said. "I'm from the banking industry, [and] the banking world loves titles – everybody's a VP. People tend to assume title means authority, which it doesn't always, or title means superiority. If that's the culture that you have, I really want to encourage you to get rid of it, and let's look at the results that are happening to people – don't get caught up in titles."
Secondly, Hogan stressed that the idea of a 'born leader' is a myth – that anyone, through perseverance and self-discipline, can become a leader.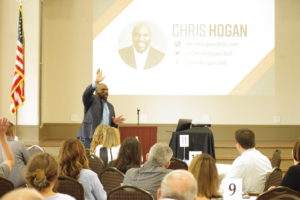 "I've seen a lot of babies that are born, and you know what, I've never seen one that I said 'that one looks like a leader,'" Hogan said. "We say this, 'he's a born leader.' There is no such thing. There are built leaders, and so regardless of where you are professionally, you have an opportunity to be able to grow in your skill set."
And lastly, Hogan said the single biggest problem he's seen in business over the past decade, was the failure of leaders to delegate properly.
"The biggest problem area in business that I've seen over the past 12 years, one word: delegation," Hogan said. "Leaders are terrible at delegating, right? And so what the reality is, when you don't delegate, you're telling your team you don't trust them, and it communicates the wrong message. What you want to do is empower people. If you've got somebody on your team that's struggling, have a conversation with them about it, like really spend some time."
Ultimately, Hogan's first collection of advice centered around improving relationships with employees.
"We can get so ego driven that we forget the people on your team, they're your number one opportunity," Hogan said. "Our customers are your second opportunity."
Going back to 'the four C's' of leadership, Hogan began with communication.
"Great communication starts by being available," Hogan said. "Too many times we have people that are in the office with us for years, but we really don't know them, we don't know what's going on in their world. In a leadership role, you've got to talk to your team about what success looks like. We tell them the job to do, but what does success mean?"
Hogan continued by asking those who want to be effective leaders to reconsider the way expectations for employees are traditionally communicated, such as work minimums. Hogan said a more effective tool than giving employees a strict minimum workload might be to give them a maximum workload, as to not stifle potential productivity through an arbitrary suggestion of the amount of work expected. 
Hogan also stressed communicating expectations clearly and thoroughly.
"There is a word for an expectation that hasn't been communicated: it's called a thought," Hogan said. "And as a leader, when you have thoughts that have never been verbalized, now you have that person at a disadvantage. Give them the opportunity to step up their game and do what's necessary."
The second component of strong leadership was 'care,' something Hogan has had to put into practice personally in his own business.
"I want you to have genuine concern for the people around you. I've got a couple of team members right now who are battling cancer… it bothers me, my heart hurts for them. Years ago, I would have been aware of it, I would have said something and tried to help. Now, I don't ask to help, I'm doing things to help. I'm not doing it to be recognized, I'm doing it because I feel like it needs to be done."
Furthermore, Hogan said for leaders to show that they care  for their employees isn't a sign of weakness, but rather a sign of strength, and of compassion.
"There's this old mindset of leadership that you need to be stoic, hardcore and not care," Hogan said. "That's false, lies and untrue. That's old-school leadership where people wouldn't leave because they felt stuck. People have options now, there are jobs all over the place, Spring Hill is booming, and so they choose to work with you. So what I want you to do is choose to care about them and choose to treat them right. It doesn't make you weak, it makes you aware, and an aware leader is a beautiful thing."
Connection was Hogan's next point. He argued connecting with employees on a personal level can do wonders in terms of leadership.
"I want you to connect early and often with your individual team members," Hogan said. "I want to know their dreams, I want to know the things that matter to them, because as a leader, if I know those things, I'm going to help them get there. 'How are you,' 'what are you working on,' and 'how can I help;' all three of those questions say 'you matter, you matter, you matter.' And ultimately when someone matters to you, and as a leader we take action, what you're saying is… that I care. If your team members can start to feel that spirit from you, it's a game changer."
And lastly, Hogan urged those who want to be effective leaders to leave their comfort zone on a regular basis. Hogan urged guests to break barriers with employees that hadn't been broken before; go out of the way to recognize achievements. 
He recounted a story in which he was a member of a neighborhood watch group, and had spent hours trying to catch a child who had been letting air out of car tires. After finally catching the boy, Hogan argued the effort to not be worth the result, but that people, and leaders, will often put in substantial effort to catch someone doing something wrong.
Hogan suggested that instead, to try and catch an employee doing something right, to catch them in the act, and to show recognition and appreciation on the spot. Something, Hogan said, might require leaving one's comfort zone.
"The impact you can have as a leader, you can change somebody's life," Hogan said. "You have some people working with you, you could be the closest thing to a family that that person has in their life, and you didn't even know it. It gives a whole different view on this whole thing in business. Remember, the number one impact you have are the people that are around you."