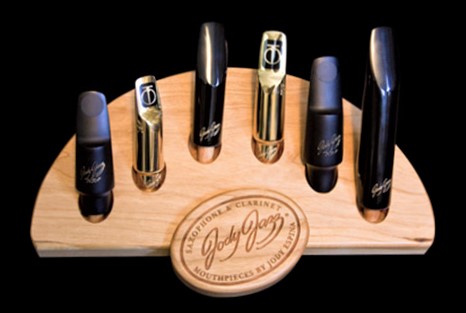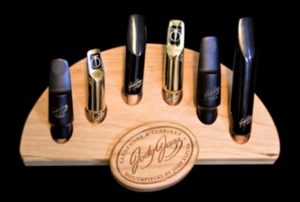 Espina's mouthpieces, courtesy Jody Jazz
STAFF REPORTS
Saxophonists, and people that love the sound the instrument makes, may be familiar with Jody Espina and his Jody Jazz mouthpieces. Those that aren't can catch up quickly as Espina will be in Bellevue on Monday, July 22, for two events.
Espina, founder, president and designer of JodyJazz Saxophone & Clarinet Mouthpieces, is both a teacher and musician — a highly regarded saxophonist, clarinetist, and flutist with a unique and personal sound, and a respected jazz educator as well.
He brings both skill sets to Bellevue on Monday.
First, he will be at Bandwagon Music and Repair from 4 to 6 p.m. for a special event, where musicians can sample the Jody Jazz line, and learn from the creator of the mouthpieces used by world-class musicians across the globe.
Bandwagon, 7639 Highway 70 South, will then follow its event by co-hosting a "Jody Jam with Jody Espina" from 7 to 10 p.m. at Tailgate Brewery, 7300 Charlotte Pike.
Tailgate will be making room in its event barn for a rhythm section of local professionals, and other musicians are welcome to join in. All folks have to do to join Jody for a tune or two is to bring a horn and some charts.
"If you've never been to the Tailgate headquarters, you will love the pizza, the atmosphere, the event barn that we'll be jamming in, and, of course, the beer," said Bandwagon's Linden Lantz. Tailgate is providing pizza for anyone who plays with the band.
Espina launched Jody Jazz in 2000 to create a traditional hard rubber round chamber mouthpiece that had the consistency from one mouthpiece to the next that players could rely on. He also wanted it to produce the power and brightness that a contemporary working saxophonist needs without sacrificing a big full saxophone sound.
As director of the jazz department at Hoff Barthelson Music School in Scarsdale, N.Y., and as adjunct professor of saxophone and clarinet in Bronxville, N.Y. — not to mention performing regularly as well — it was a difficult decision to stop teaching and dive full time into Jody Jazz.
But he did … for the most part. Espina stays active musically in his new hometown of Savannah, Ga., occasionally touring abroad with the trio Tricycle, the chamber Jazz group "4 Five VI", and the theater company, "Strike Anywhere."
Espina's background is extensive and impressive. To learn more about him and his mouthpieces, visit https://jodyjazz.com/.