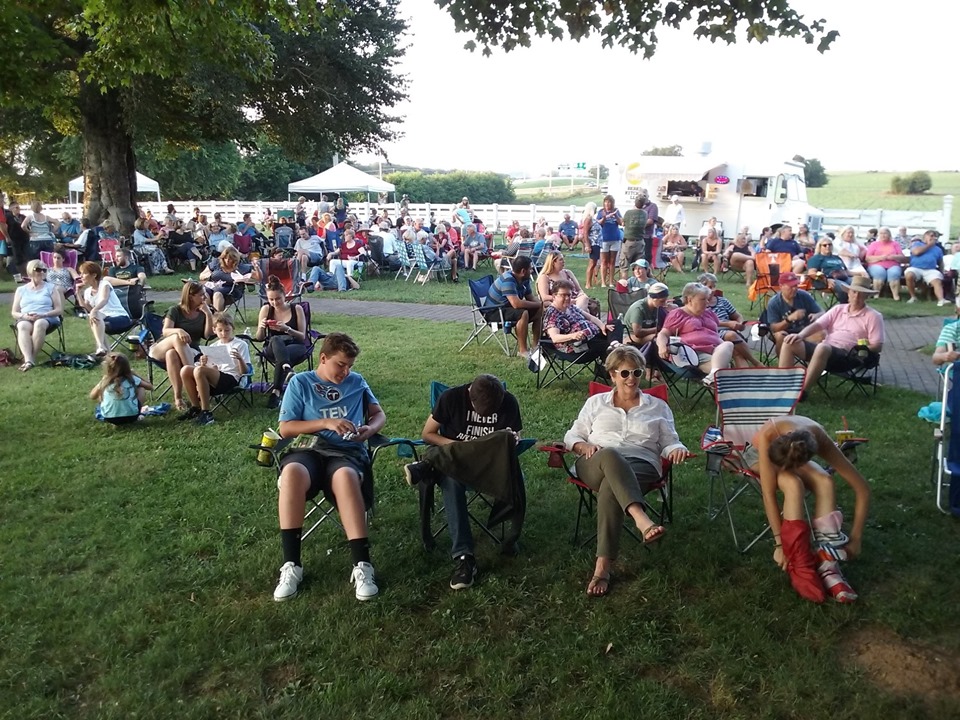 PHOTO: July's Music at the Mansion saw hundreds attend — this month's Music at the Mansion will be the final showing for the year. / Courtesy photo
BY ALEXANDER WILLIS
For the first time in a while, weather this weekend in Spring Hill looks to be clear, with the National Weather Service expecting clear skies and daytime temperatures to hover in the low 90s. While midday may be slightly sweltering, temperatures are expected to drop all the way down to the high 60s during the night, making Friday, Saturday and Sunday afternoons the perfect opportunity to enjoy the outdoors — and what better way to do that than with these five great events happening in and around Spring Hill.
Music at the Mansion
Where: Rippavilla Plantation, 5700 Main Street
When: Friday, 6 – 9 p.m.
Music at the Mansion, a Spring Hill-exclusive music event held at the Rippavilla Plantation, is set and ready for its third and final showing on Friday at 6 p.m. The event is free to attend, with guests encouraged to bring picnic blankets, chairs or anything else needed to get comfortable.
Held on Friday from 6-9 p.m., the event will see live performances from Thanks a Chameleon, Pontiac Alley, Patrick Mead and Jordan, Rich Fyrh, and the Tim Turner Band. A food truck will also be present during the event.
"Music at the Mansion is local musicians coming together with an audience to do something a little different on a Friday night," said Matt Meyer, the organizer behind the event. "There's not a lot to do at night music-wise in Spring Hill — there's a few things here and there, but especially Friday night there's not a lot. We thought we'd try something different; after hours, done with work, go over to Rippavilla, get dinner, sit and watch some music … that kind of thing."
Food trucks will also be plentiful at the event, featuring such favorites as Asgard Brewing and Rizo's Mexican Taco Shop.
Pokemon Club
Where: Spring Hill Public Library, 144 Kedron Parkway
When: Saturday, 1 – 3 p.m.
For the Pokemon masters of Spring Hill, the Spring Hill Public Library invites all local Pokemon trainers to their monthly Pokemon Club, where fans of the hugely popular series can trade and battle cards, or bring their Nintendo DS, 3DS and Switch gaming systems to battle and trade Pokemon.
Hitting North America in 1998, the Pokemon franchise went on to become a worldwide phenomenon, grossing more than $70 billion in revenue as of March 2017. The series has seen a resurgence of sorts with the launch of the augmented reality app, Pokemon Go in 2016.
Emergency Rummage Sale
Where: Midsouth Youth Theatre & Arts, 3407 Kedron Road
When: Saturday, 8 a.m. – 3 p.m.
After time constraints prevented Midsouth Youth Theatre & Arts from being able to hold a formal sale before the start of fall rehearsals, the nonprofit is instead holding an emergency rummage sale where those interested can peruse over 200 boxes of clothes, furniture, books and more.
Some items adventurous shoppers can expect to find at the sale include kid and baby clothing from newborn to teen, women's and men's clothing with sizes from XS to 3XL, toys and games, books, kitchen items such as silverware, pots, pans and coffee makers, furniture such as couches, coffee and end tables, sewing machines and home decor items.
Stevierock's Residency
Where: Acapulco Mexican Grill, 2001 Campbell Station Parkway
When: Friday, 7 – 9 p.m.
Stevierock, a world-traveled Tennessee musician, will be performing Friday night at Acapulco Mexican Grill with a performance from Stevierock's Acoustic Family Band.
Performing across the U.S. and Europe, Stevierock has played drums for a variety of rock and country groups, and was called "one of Nashville's hardest working metal bands" by The Tennessean.
Friday's performance will also allow for guests to make song requests through the Mysonglist smartphone app, which can be downloaded for free on both Apple and Android phones.
Sweeney Hill Farm Goat Yoga
Where: The Commons at Spring Hill, 5075 Main St.
When: Saturday, 9:30 – 10:30 a.m.
If you've ever wanted to practice yoga alongside goats, then Sweeney Hill Farm has got just the thing for you. The farm will be combining its love of goats, with the art of yoga this weekend during two separate Goat Yoga classes at the common area of the Early's Honey Stand shopping center, right next to Vintage 615 and Delta Bound.
Sweeney Hill Farm advises guests to wear T-shirts, as the goats hooves can be sharp at times. The event provides farm mats, but if you'd prefer a regular yoga mat, you may bring your own.
Tickets are $20 a person, and may be purchased online by clicking here.