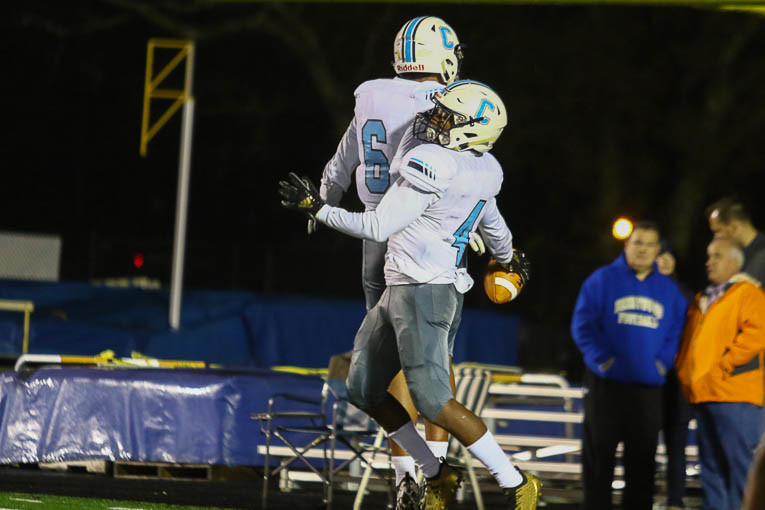 STORY BY KEVIN WARNER| PHOTO BY STEVE WHEELER 
The Centennial High School Cougars and fourth year head coach Matt Kriesky look to focus on the details and improve this season after a disappointing 3-7 campaign in 2018.
Centennial had the unfortunate distinction of being the only public high school in Williamson County to miss the playoffs last season, but as Kriesky pointed out at the WCS Media Day last month, the Cougars found themselves in every contest but came up a little short in the end.
That included a last-second loss to 6A rival Brentwood, which could have put them in playoff position.
Kriesky and the Cougars really zeroed in on correcting their mistakes and hopes for a better outcome this season.
"Focus on the smaller things making sure were very detail-oriented, and were doing the small things right," he said. "Also, you've gotta play four quarters in Williamson County, you've got to play a complete four quarter game if you expect to win."
The Cougars return all five starters on their offensive line including Trevor Anderson, who will also see time on the defensive line, and Cameron Cilurzo.
That experience on the offensive line should help protect returning senior quarterback Grayson Marcel, who threw for almost 1,400 yards despite missing four games with a foot injury.
Marcel will be joined by Desmond Smith in the backfield, as he makes the switch from wide receiver to running back to help replace 2018 Wilco Player of the Year Jariel Wilson, who signed with Austin Peay State University last spring.  Johnny Crouch, who also kicks for the team, will return and help lead the receivers as a senior.
Kriesky said that Wilson's departure might actually help the team overall because of the reduction in big plays, which might give the defense more time to rest on sideline. He also said the Cougars could use some bigger backs in the backfield and could employ some more run-pass option plays this season, but for the most part, the offense wouldn't change much.
On defense, the Cougars return all the starters along the front seven, including Anderson, who Kriesky praised for his leadership.
"Watching him lead in practice this year is unbelievable," he said. He is making sure everybody, young guys, older guys, everybody's doing the right thing in practice."
Centennial will add some tough games to its schedule in 2019, despite losing out on the Kriesky Bowl rematch with Riverdale High School, which is coached by Kriesky's brother.
The Cougars will face, however, games against two tough Rutherford County schools in Siegel and Smyrna High Schools. It will also face games against crosstown rival Page High School, and private school powerhouse Pope John Paul ll, along with the regular hassles in the region like Ravenwood, Brentwood, Franklin and Independence.
Kriesky said his team has bad taste in their mouth after the disappointing season a year ago.
"As you look at our league, were probably not the biggest team that you're going to see, were probably not the fastest team that you're going to see, and were going to have a lot of doubters this year, but I would take my 65 guys every Friday night against anybody."