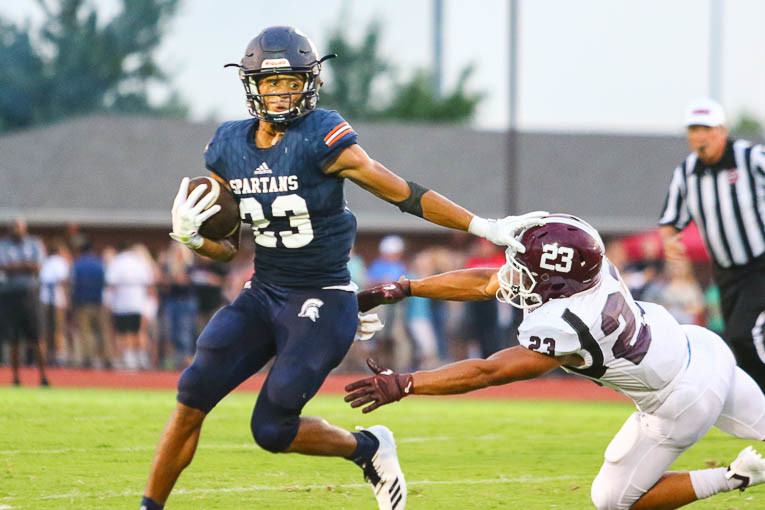 STORY BY KEVIN WARNER | PHOTO BY STEVE WHEELER 
Head Coach Brian Coleman and the Summit High School Spartans see 2019 as the year to give the Spartan offense a new look.
Summit went 6-5 last year and a lost in the first round of the TSSAA 5A playoffs to Beech High School.
The trip that marked the third in a row for the Spartans, who have only been playing varsity football since 2012.
Coleman decided that it was time for the Spartans to take advantage of some of the athletes on its roster and change from a wing-T offense in favor of a spread offense.
Coleman talked about the change at the Williamson County schools media event in July.
"We are blessed this year with a lot of skill receivers, your guys, that were trying to get these men into space and create big plays," Coleman said. "So, as a coaching staff, we're not very smart, but we're smart enough to put these guys in position to succeed."
Spartans will look to rely more on wide receiver/defensive back John Casey in the new offense and will move senior George Odimegwu from running back to wide receiver. The rising senior led the Spartans in rushing the previous two seasons.
Coleman hopes the move will help Odimegwu and others get noticed by more colleges. He also believes that the change will be more conducive to sophomore quarterback Destin Wade's skill set.
Coleman said Wade brings lots of athleticism and continues to improve his accuracy throwing the ball each day.
The Spartans may be moving to the spread, but Coleman does not want to abandon the aggressive run game his team had in the past.
"We're still going to run the football, we're still going to be an aggressive team both offensively and defensively," he said. "When you say the word 'spread', we're still going to do it physically. We're still going to keep the same blocking schemes as the wing-T."
Running behind those blocking schemes will be Junior Tre Hunter and sophomore Keaten Wade among others.
The Spartan defense will be led by Odemegwu and Casey in the secondary as well as, senior defensive end Kiston Arnold and senior middle linebacker Jaylen Herrud, who recently committed to Navy.
The young Spartans will begin their season hosting Independence High School Friday at 7 p.m. in the annual Border Battle with their crosstown foe. Coleman wondered how he young team, namely the offensive line, will respond when the lights come on Friday night.
"With Indy being first, they're going to be thrown into the fire," he said. That's probably going to be one of the biggest games they play all year far as the crowd goes as far as the atmosphere. It's going to be tough to say to them until they feel that."