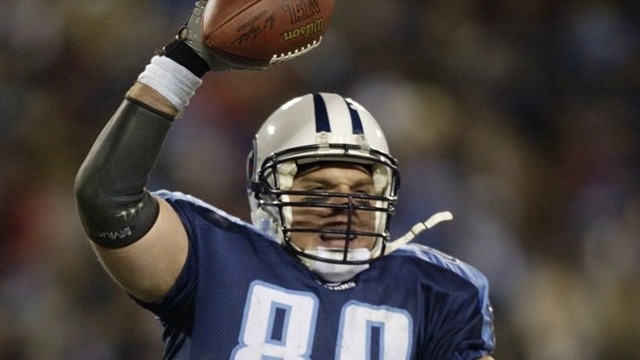 BY CORY WOODROOF
Former Tennessee Titans tight end and sports media personality Frank Wycheck has filed a civil lawsuit against former Franklin workout facility Prairie Life Fitness.
The suit claims a count each of premises liability and negligence against the fitness group, which is registered as a foreign limited liability company.
Wycheck seeks $1 million in damages plus costs.
The filing, Frank Wycheck vs. Prairie Life Fitness, LLC, claims Wycheck injured himself at the now-closed 300 Shingle Way location in July 2018 when he "stepped on an improperly installed or maintained board on the floor" of a steam room/sauna area.
It argues that the former football player was exercising due care and caution at the time of the injury and the fitness center was negligent for not maintaining the "defective condition on the premises."
The suit also alleges the Prairie Life location had "actual or constructive notice of the existence of the aforesaid unreasonably dangerous condition" at the time of the injury and at all relevant times, and that the decision not to fix the issue left all who visited the premises at risk of injury.
The injuries/damages claimed for Wycheck are said to be of "a personal, pecuniary and permanent nature."
Wycheck is being represented by Daniel G. Alholm of the Vrdolyak Law Group, based in Nashville. They filed the document to Williamson County's circuit court on June 29.
The Omaha-based THE Athletic Club closed the doors on its Franklin Prairie Life Fitness this past April after 12 years of business.
They promised to adjust membership accounts and process refund payments for any prepaid fees or charges in a notice to members.
Wycheck played for the then-Houston Oilers/Titans from 1995 to 2003. He's best known for his role making the lateral pass that sparked the iconic Music City Miracle that boosted the Titans to a Wild Card playoff win in January 2000.
He also had a local sports media career that included stints with the Titans' radio network and radio station 104.5 The Zone.
Wycheck has been open about his health struggles. He expects these to be related to chronic traumatic encephalopathy (CTE), a degenerative brain disease that plagues a number of NFL veterans.
He was not was part of the $1 billion settlement the league made with its former players and was vocal about his frustrations with said decision.
Photo from Getty Images.