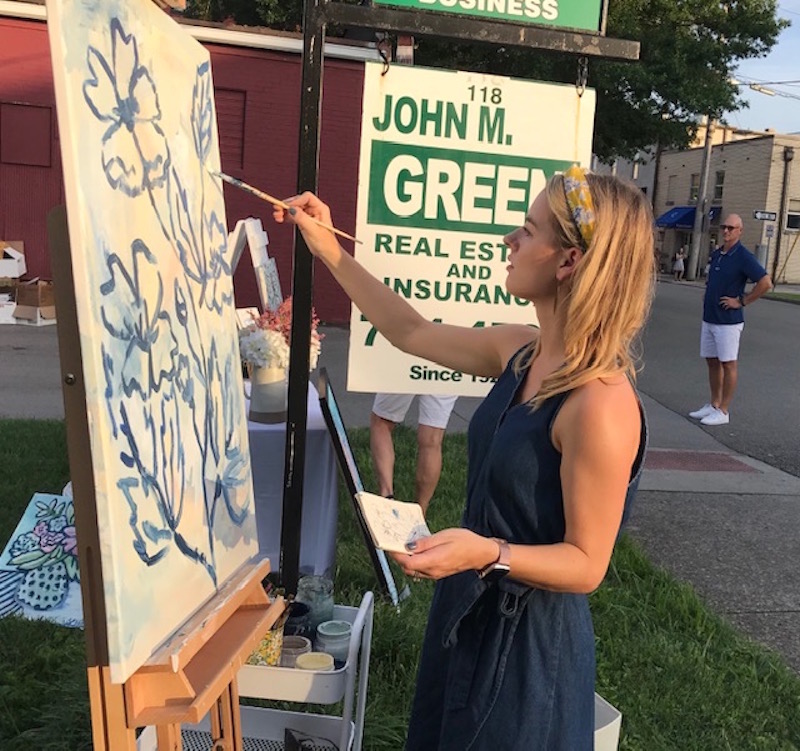 PHOTO: Lauren Hitchcock, a newcomer to the Franklin Art Scene and a new teacher at Nolensville Elementary School, demonstrated some of her artistic techniques at the office of John H. Green in downtown Franklin. / Photos by John McBryde
By JOHN McBRYDE
The sidewalks of downtown Franklin were just about as crowded on the fifth of July as they were on the Fourth of July.
One day after the annual Franklin on the Fourth was held, the monthly Franklin Art Scene drew a sizable crowd Friday evening as well. Artists were displaying their creations at more than 20 sites along Main Street and beyond.
Like it does every month, the Art Scene features returning artists and newcomers as well.
Bo Rinehart of the band Needtobreathe is one such first-timer at the Franklin event. A South Carolina native who now lives in Brentwood and tours with the band for most of the year, Rinehart had some of his work displayed at Franklin Road Apparel.
Another newcomer was Lauren Hitchcock, who was showing her watercolor paintings at the John H. Green building on Fourth Avenue North. A resident of Smyrna, she was formerly a teacher at Hunters Bend Elementary School in Franklin and will begin a new position in August at Nolensville Elementary.
"I'm inspired by anything that grows," she said. "These are the things that bring me joy."
Also making a debut at Franklin Art Scene was Vintage, TN, an artisan destination on Columbia Avenue. It's a little way out from downtown Franklin, but the new vintage store beckoned folks with an Art Scene party and rides on the trolley.