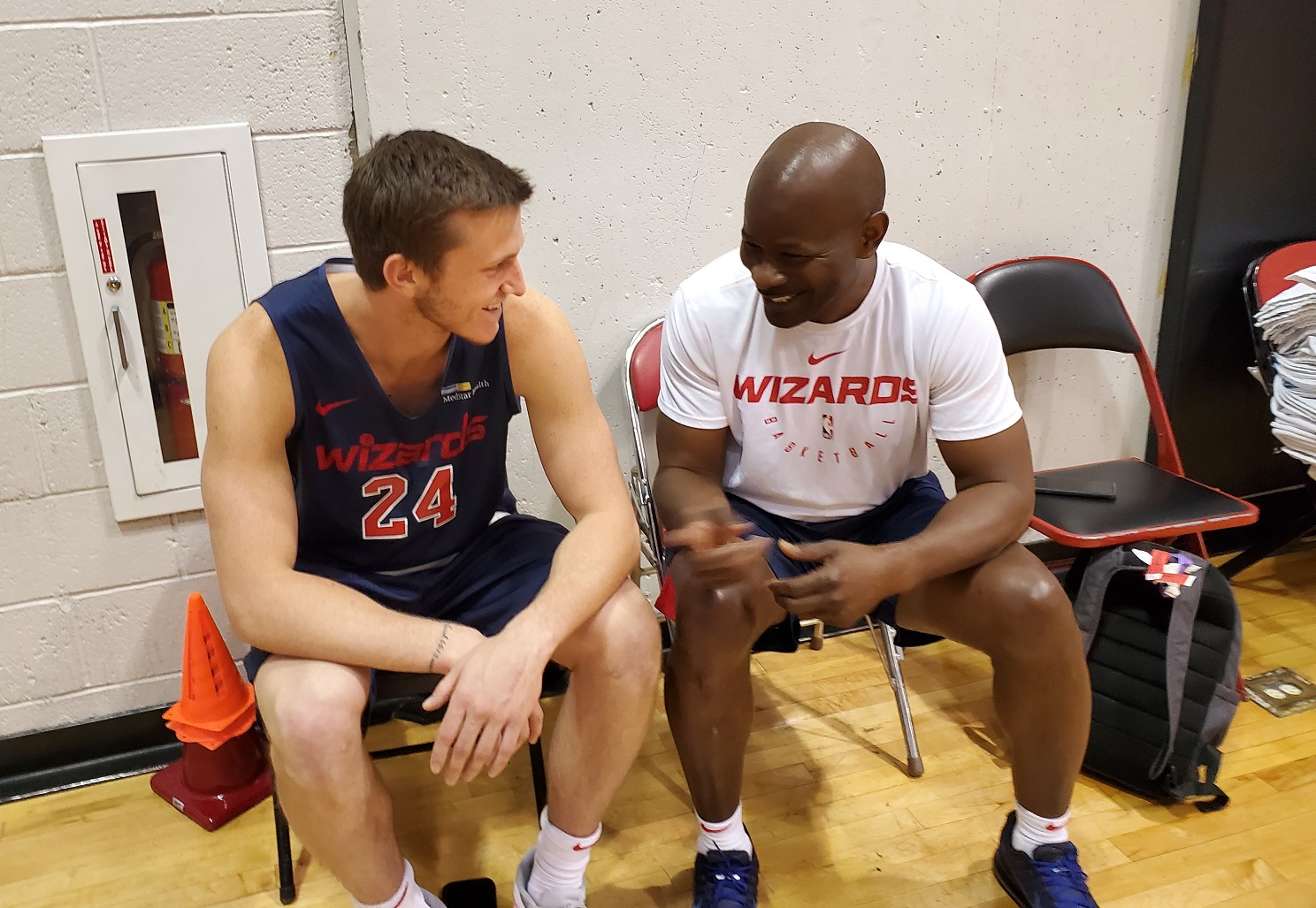 Photo: Mathews and his Wizards summer league Robert Pack together during a session. 
STORY AND PHOTO BY W.G. RAMIREZ 
LAS VEGAS — Garrison Mathews splashed into the NBA the only way he knows how – with nothing but net.
After sitting out the first two games of the NBA Summer League, the former Franklin High dual-sport athlete became Lipscomb's first-ever player to play in an NBA game and gave the Washington Wizards a 3-0 lead with a long-range jumper 56 seconds into the game.
"I knew my time would come," said Mathews, who finished with seven points on 3 of 4 shooting from the field, including 1 of 2 from 3-point range. "I'm just excited about being here and learning from the different guys, learning from the coaches and just watching and seeing what I can take in and whenever my time comes showing what I can do."
It's apparent the team knows plenty about the three-time all-Atlantic Sun Conference standout who led Lipscomb to its first NCAA Tournament as a junior.
Mathews was signed to a two-way contract, and Wizards general manager Tommy Sheppard said he was enthusiastic and optimistic about Lipsomb's greatest scorer who set Division I school records in single-game scoring, 3-pointers made and career scoring with 2,478 points.
NBA teams are allowed up to two two-way contract players each season, and players can spend up to 45 days in the NBA while spending the rest of the season in the G League. Sheppard confirmed Mathews will start the 2019-20 season with the Wizards' G League team, the Capital City Go-Go.
"I know they have confidence in me and I've got confidence in myself," Mathews said. "I know when I get my chance I'm gonna take it and play as hard as I can. If my shots fall, they fall. If they don't, I'm gonna move on to the next play. That's kind of my mentality going in. But it's a good feeling definitely having confidence from the (management) down."
Mathews said he doesn't mind playing under the radar, as it's been the driving force and what's help lay the foundation for his career. Throughout college he figured he'd play overseas. The reality of playing in the NBA kicked during his senior campaign, when he was named Atlantic Sun Player of the Year after averaging 20.8 points per game.
"That was really the turning point of when I thought I could actually make it," Mathews said. "I came in from high school having three or four Division I offers. I haven't had anything handed to me. I came to Lipscomb, didn't play much at all until halfway through my freshman year. It's kind of how I've always been, I've always kind of come from the bottom and to be honest I really wouldn't want it any other way."
Summer league coach Robert Pack said he's enjoyed Mathews' grit since joining the team the week before the summer league, as he's soaked up as much as he can, and continued to show he's willing to improve on an already dangerous offensive game.
"He's getting a little introduction to the league; sometimes he's gonna watch," Pack said. "He's a young player, I've been there, and he's just gotta be ready. I've communicated to him to stay ready and his time is coming. He's worked hard, he's been positive and his time will be ready. The situation in this league is, you gotta be prepared when your opportunity comes. It's inevitable that it'll come. I look forward to seeing good things out of Garrison."
Mathews said he welcomes the challenge of playing at a faster pace and doesn't mind a much more physical style. While Pack has pressed upon the summer league players how much the Wizards need to improve defensively, it's helped balance the 22-year-old's overall game. He's also learned to move past mistakes faster than he might have in college, knowing the improvement at this level is a natural progression.
"There's definitely a big learning curve that I'm still trying to overcome," he said. "But I feel confident I'll get there, for sure."
He has to, he added, as he knows he's playing for more than himself and his family at this point.
"I wouldn't be the person I am today without them, my hometown and Lipscomb as well – all the people that have helped me get to this point," Mathews said. "I really want to get out there and show what I can do on behalf of them because they mean so much to me."
W.G. Ramirez is a freelance reporter in Las Vegas and the Southern Nevada correspondent for The Associated Press. Follow him on Twitter at @WillieGRamirez