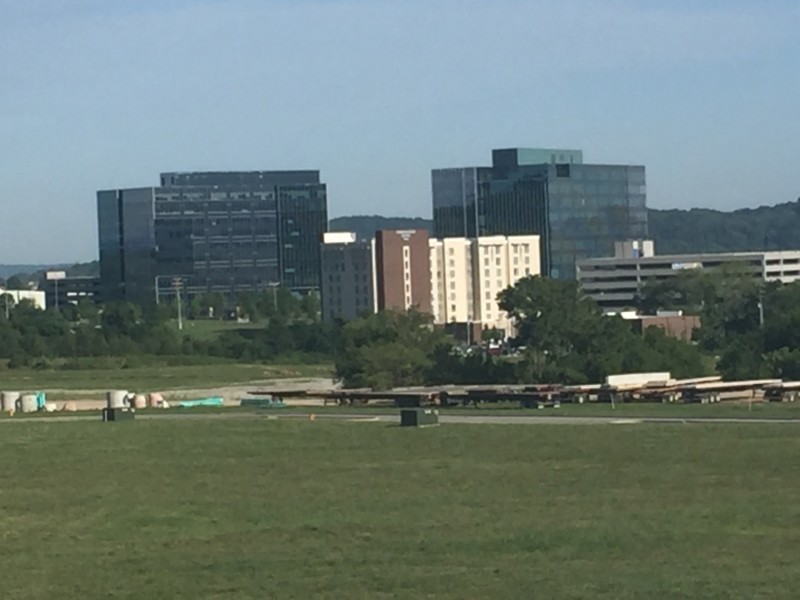 By MATT BLOIS
Following an unusual scene in the bidding process of some high-profile Cool Springs land, Ovation Loan Group LLC is the new owner of a portion of the Ovation development auctioned off Friday.
The sale price was $40.5 million, according to Williamson County Register of Deeds Office records of the sale and dated Monday, July 1.
Ovation Loan Group, which is affiliated with the New York hedge fund Atalaya Capital Management, loaned tens of millions of dollars to the previous owner, a Georgia development company operated by Stan Thomas. Thomas' company entered bankruptcy in 2018 and couldn't pay back the loan.
The property was auctioned off on the steps of the Williamson County courthouse Friday. The bidding started at $35 million, the amount remaining on the loan.
The auction drew headlines when Amir Karshenas, a Nashville-based bail bondsman, said he didn't know about the auction until he arrived at the courthouse on Friday afternoon. After several minutes of careful consideration, he decided to bid on the property.
Karshenas and the loan group were the only bidders participating in the auction. After several rounds of bidding, Karshenas won the auction with a bid of $42 million. The loan group entered the second highest bid of $40.5 million.
According to the terms of the auction, Karshenas had to close the deal on Friday afternoon. He seemingly failed to finalize the transaction and Ovation Loan Group became the new owner.
Immediately following the auction, Karshenas told lawyers conducting the auction he was prepared to wire the money that day. In an email on Friday afternoon, Karshenas claimed he was at a bank trying to wire the money and close the deal.
Karshenas didn't return phone calls on Monday or Tuesday. Creditors and debtors — and the lawyers representing them in the Ovation bankruptcy case — also didn't return phone calls or emails asking about the sale.
After the auction, Karshenas said he represented a Middle East-based investment company involved in the construction and oil industries. He said he hoped to build a mini-Dubai in Cool Springs.
A major portion of the property that was auctioned off is located at the corner of Carothers Parkway and McEwen Drive. It covers about 34 acres in total.
Thomas' company still owns a large portion of land on the southern section of the development. Highwoods Properties, a developer from North Carolina, owns another significant chunk of the development.
Highwoods recently opened the first office building on the property, the headquarters for Mars Petcare North America.