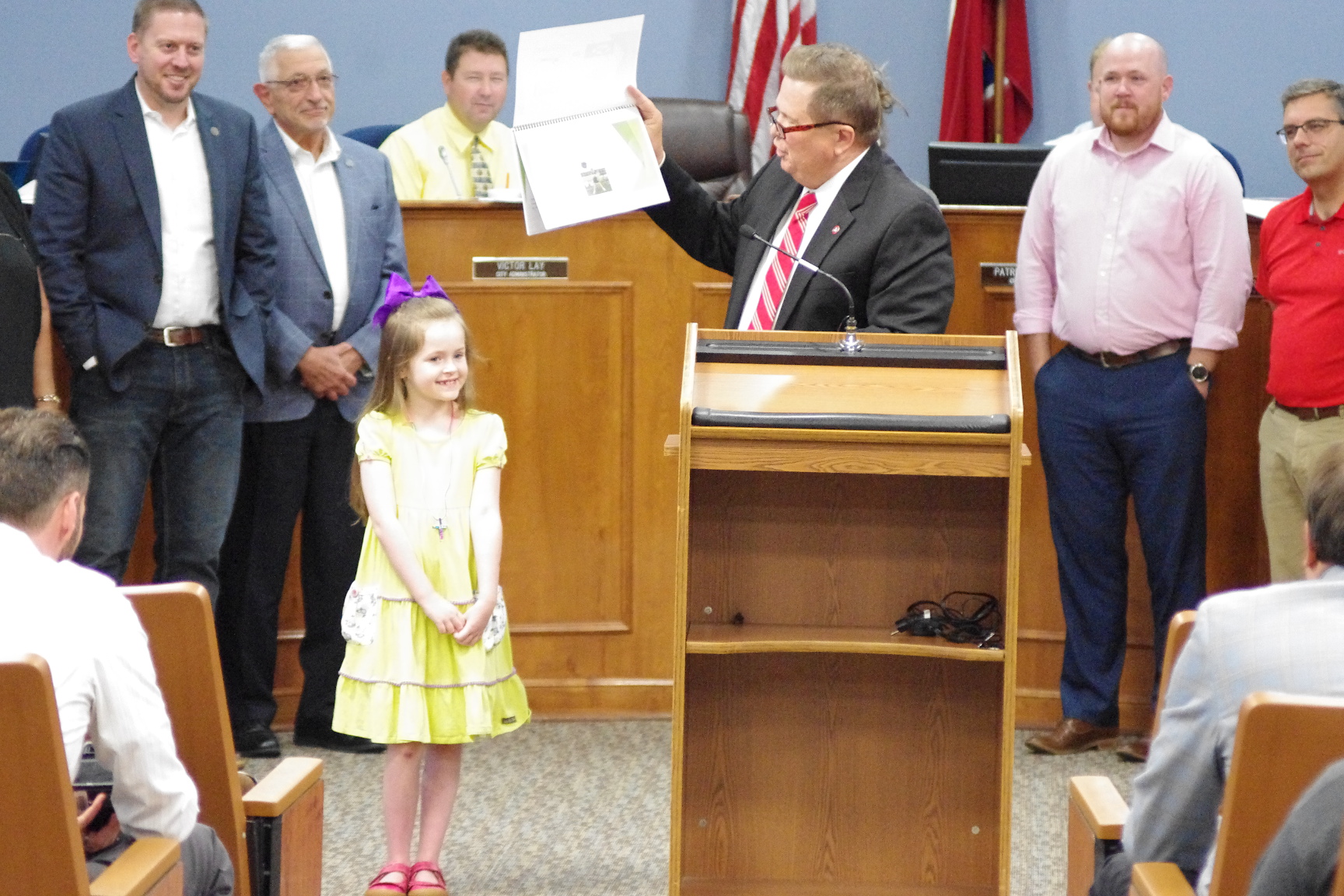 PHOTO: Mayor Rick Graham shares some of 7 year-old Gracyn Brenda's ideas for the city during a city meeting Monday night. / Photo by Alexander Willis
BY ALEXANDER WILLIS
Seven year-old Gracyn Brenda was at her wits end with the amount of tire stores, storage facilities and dental offices springing up in Spring Hill. Determined to make a change, Gracyn asked her mother, Keelie Brenda, if she would drop her off at City Hall Monday to protest the city government, where she had planned to hold a sign she had made that read "no more tire stores!"
Before participating in Gracyn's protest, however, her mom suggested first offering the city some solutions.
"She gets so excited when we see new construction, and she always asks me what it's going to be, and it's usually an automotive place, or a storage facility, and she gets real disappointed," Keelie said. "So I think it was last Thursday when she saw another storage facility… she was ready to protest."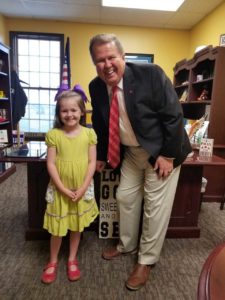 After her mom suggested coming up with solutions before protesting, Gracyn got to work on her own Power Point presentation she hoped to share with Mayor Rick Graham.
In the presentation, Gracyn breaks down her ideas for the city into three categories: activities for kids, businesses for Spring Hill and safety for kids.
"Don't think inside the box — think outside the box," writes Gracyn in the opening slide. Furthermore, Gracyn's ideas for entertainment for kids include a bowling alley, ice skating rink and an indoor trampoline facility. Gracyn suggested businesses like Hobby Lobby and Michaels would be a good fit for the city, and suggests there should be more options for swimming lessons as to keep kids safe in the water.
After her mom reached out to city staff, Gracyn was excited to learn she would get her chance to pitch her ideas to the mayor Monday evening, just before the city meeting of the Board of Mayor and Aldermen (BOMA).
After the one-on-one meeting, Graham praised Gracyn publicly for her enthusiasm for Spring Hill at the beginning of the BOMA meeting.
"Initially she was going to do a protest, but she decided she'd meet with me first before she did the protest," Graham said. "She came up with some great ideas, and let me share a few of them with you."
Graham went on to read Gracyn's presentation, which in addition to her suggestions for businesses and entertainment, included graphs and pie charts showing Spring Hill's child population, as well as the rate of child fatalities due to drownings when compared to national rates.
Before shaking hands with members of the BOMA and receiving a round of applause, Gracyn thanked Graham, and left her audience with some last words.
"I love Spring Hill," Gracyn said. "Make Spring Hill awesome for kids and families."
When asked whether Gracyn may still protest in the future, her mom answered with a resounding "maybe."
"This experience taught her to use her voice, address her concerns with decision makers and offer solutions," Keeli wrote in an email. "Now if she doesn't see change after addressing her issues, she will probably beg me to drive her to city hall to protest."