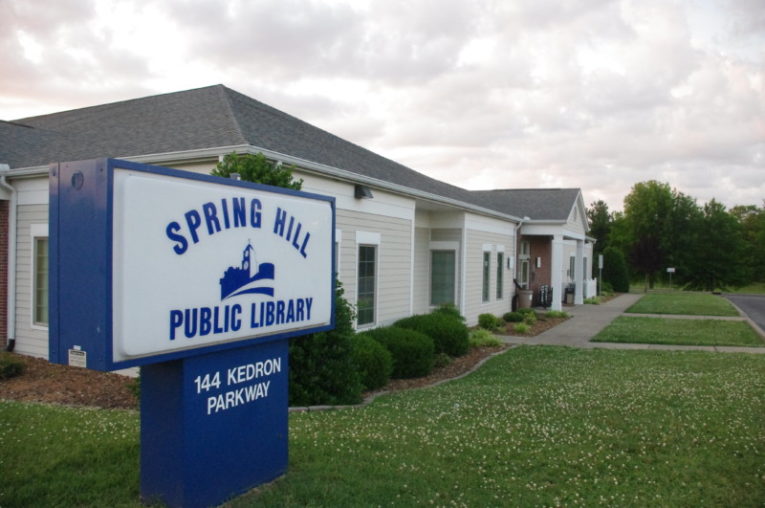 Photo by Alexander Willis
BY ALEXANDER WILLIS
School is back in session for many younger Spring Hill residents, and beyond countless tests and homework assignments, that also means regular programing is returning to the Spring Hill Public Library.
From art classes to craft workshops, the Spring Hill Public Library has a number of free activities designed for kids, teens and adults. For more information on programs, visit the Spring Hill Public Library website by clicking here, or call at (931)486-2932.
Here's a roundup of all events going on during the month of August at the Spring Hill Public Library:
Programs for all ages
I Cre8 Art Class 
When: Saturday, August 24, 10 a.m. 
Come and create your own original piece of art while experimenting with a variety of art supplies and techniques.
Open Chess Club
When: Fridays, 3 – 4 p.m. 
For children and teens; all skill levels welcome.
Pokémon Club
When: Saturday, August 17, 1 – 3 p.m. 
Bring your DS and cards to play. For children and teens.
Programs for Children
Baby Time
When: Mondays, resuming August 19, 9:15 a.m. 
Rhymes, songs, books, and lots of bouncing that is just right for your little one! Build your baby's foundation for lifelong reading and learning with this interactive weekly session designed for children from birth – 2 years old and their caregivers. A brief playtime follows.
Story Time
When: Tuesdays, Wednesday, & Thursdays, resuming August 20, 10 a.m. 
A grand time of sharing some of our fav
Programs for Teens
Yack 'n Snack
When: Monday, August 5. (1st Monday, Aug. – May), 4 – 4:45 p.m. 
Come and speak your mind! Help us come up with cool ideas for teen events, share your thoughts regarding the latest teen books, meet some awesome thinkers just like yourself while enjoying an original craft and some yummy snacks. For teens ages 12+.
Comic Bunch
When: Tuesdays, August 6 & 13 (1st & 2nd Tuesday, Aug.-May), 4 – 4:45 p.m. 
Anime, Manga, chibi and general comic lovers are welcome to come and hang out with other teens that share the same passion. Learn how to draw known characters and create new characters, as well as writing our own unique and original comic strips. All skill levels welcome. Supplies provided. If you have a work-in-progress, bring it in and complete in the company of this awesome bunch. For ages 12 -18.
Journal Art
When: Mondays, August 19 & 26 (3rd & 4th Monday), 3:30 – 5 p.m. 
For ages 12-18. Journals are made from scratch and teens can join the class any time during the year. We will focus on the use and creation of a visual journal: part sketch book, part doodle pad. It's both a notebook and a diary. Teens will document their lives in a creative way while exploring the art making process. Drop-ins welcome.
Gamers Unite
When: Tuesday, August 20 (3rd Tuesday), 3 – 5 p.m. 
Teens (12-18) come and meet other game enthusiasts and have a blast with both popular Tabletop games (Blokus, Telestrations, Qwirkle, Apples to Apples) and Tec games (Super Mario Kart 8 Deluxe, Team Sonic Racing and Zelda).
Programs for Adults
Understanding and Enjoying Your Teenager
When: Saturday, August 10, 1 p.m. 
Contrary to popular belief that the teen years are full of conflict and emotional distance, the teenage years can be an incredibly positive time in a young person's life and parents can experience a great connection with their teen. Based on important new brain and human development research, clinical therapist Shaina Morton will help you understand what is happening in your teen's brain and exciting ways you can become close to them and make the sometimes-awkward teen years less lonely and stressful.
Craft Crew
When: Tuesday, August 27, 2:30 – 4:30 p.m. 
A monthly craft class for adults 18+. Come meet and enjoy other creative people like you! Click here to sign up.