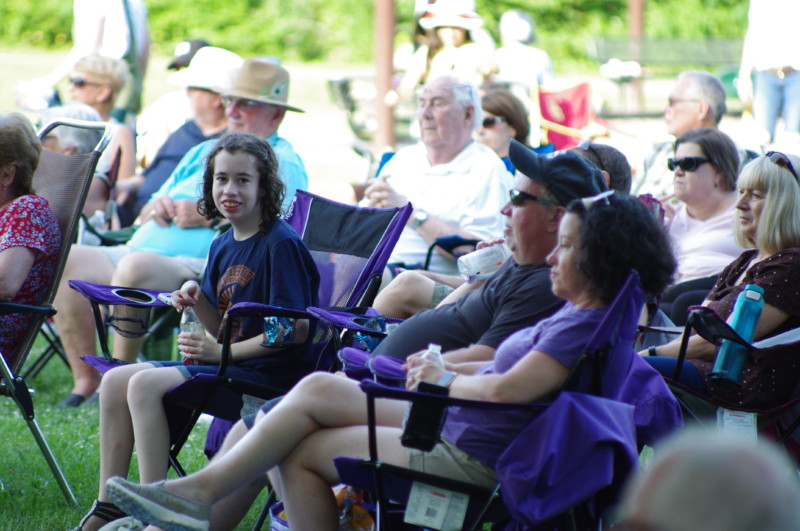 Photo by Alexander Willis
By ALEXANDER WILLIS
After endless rain and blistering hot days, Spring Hillians finally appear to have caught a lucky break, with this weekend expected to be clear, sunny, and best of all, moderately cool.
With no rain expected this weekend, temperatures are expected to range from the mid 60s to the high 80s, with humidity levels sticking around the 50% marker.
So put on some summer shorts, perhaps some sunscreen, and make the best of this weekend with these five great events going on in Spring Hill.
Pickin' in the Park
Where: Harvey Park, 4001 Miles Johnson Parkway
When: Saturday, 5 – 8 p.m.
Pickin' in the Park, Spring Hill's iconic summer music performance event, is kicking off its third night of the season this Saturday at Harvey Park. The event will continue once a month over the summer, ending in September.
The lineup for Saturday's show consists of Just Whiskey, Rebel Hill Blues Band, Gradient, Anam Cara, Eliana Petit, Thanks a Chameleon and Collins. The event is free to attend, with guests encouraged to bring blankets and chairs for the optimal experience, as well as some cash for the food truck.
If parking fills up to capacity at Harvey Park, guests are also permitted to park at the First Baptist Church right next to Harvey Park. Harvey Park is located at 4001 Miles Johnson Parkway. Further questions about the event may be forwarded to Meyer by calling 731-616-0664.
Back Yard Theatre Comedy Night
Where: 2007 Spring Meadow Circle
When: Friday, 7 – 9 p.m.
Back Yard Theatre, a Spring Hill community theatre troupe, will be putting on a free comedy night Friday with music by Ray & Bruce, an acoustic duo in the Spring Hill area otherwise known as the BOLOs. The performance is free to attend, though Back Yard Theatre will be accepting donations during the event.
The performance will see comedy from Nashville's Laughing Corpse Productions, Lynda & Steve, PK Zac, Ernie Salisberry, and Charlie Schoenbrodt.
The performance will be held at an outdoor venue covered by a canopy of trees and will feature light refreshments for sale.
Certified Bourbon Steward Training
Where: Hampton Inn, 2052 Crossings Blvd.
When: Saturday, 1 – 4 p.m.
Executive Bourbon Steward and founder of Straight Up 615 will be holding a training course Saturday to transform guests into a certified Bourbon Steward and esteemed member of the Stave & Thief Society. Space is limited, with tickets costing $125 for the three-hour class.
The class will cover what makes a bourbon and how it's different from other whiskies, the science behind distilling and aging, bourbon history, descriptions of the characteristics and nuances of bourbon, and much more.
To get tickets, click here to visit the class's Eventbrite page online.
Laura Lane at Frankie's
Where: Frankie's Pizza & Grille, 100 Kedron Parkway
When: Friday, 6 – 8:30 p.m.
Frankie's Pizza & Grille on Kedron Parkway will see a live performance from local musician and performer Laura Lane Friday evening, where she'll bring her unique blend of country, blues, soul and rock to the stage.
Growing up in a farming community just outside of Corinth, Mississippi, Lane was surrounded by music from an early age, learning to play the piano at just 8 years-old. Some of Lane's largest influences are Elvis Presley, Patsy Cline and Tanya Tucker, to name a few.
There's no cover charge for the performance, but live music often goes well with a beer or pizza, which you can convientintly be served at the venue.
Sweeney Hill Farm Goat Yoga
Where: 5075 Main St.
When: Sunday, noon – 1 p.m.
If you've ever wanted to practice yoga alongside goats, then Sweeney Hill Farm has got just the thing for you. The farm will be combining its love of goats, with the art of yoga this weekend during two separate Goat Yoga classes at the common area of the Early's Honey Stand shopping center, right next to Vintage 615 and Delta Bound.
Sweeney Hill Farm advises guests to wear t-shirts, as the goats hooves can be sharp at times. The event provides farm mats, so if you'd prefer a regular yoga mat, guests may bring their own.
Tickets are $20 a person, and may be purchased online by clicking here.