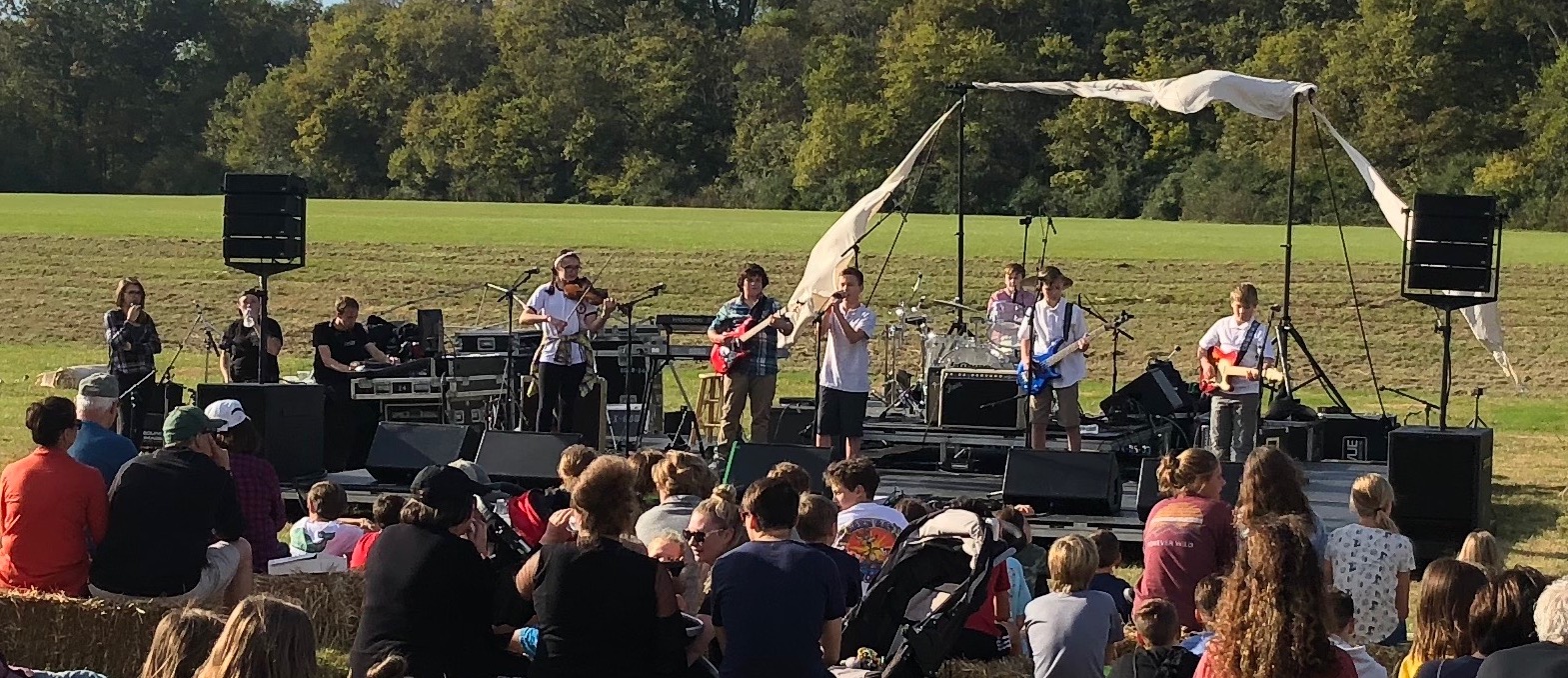 PHOTO: General Idea, a band composed entirely of seventh graders, will be performing this Saturday at Spring Hill's Pickin' in the Park music festival. / Courtesy photo
By ALEXANDER WILLIS
While Spring Hill leaders continue to work on creating a distinct and bustling downtown area, many residents feel they have to leave the city in order to find fun things to do over the weekend. 
The good news is, this weekend has plenty going on right here in Spring Hill; from its iconic music festival Pickin' in the Park, to a yoga class that practices alongside goats, as well as a paranormal investigation at the historic Rippavilla Plantation.
Pickin' in the Park Music Festival
Where: Harvey Park, 4001 Miles Johnson Parkway
When: Saturday, 5 – 8 p.m.
Pickin' in the Park, Spring Hill's longest-running music festival, is ready to kick off for the second-to-last time of the season this Saturday. 
Held at Harvey Park, this month's music festival will include performances from 840 Junction, Dusty Duhon, Sierra Stedman, General Idea, Matt Meyer, John Martin Keith and Michael Ricks.
General Idea is among the lineup's newest acts to perform at the event, and is a classic rock cover band composed entirely of kids. Matt Meyer, who'll be performing folk, rock and ska-inspired music Saturday, is also the original creator of the music festival, which saw its first showing back in 2013.
The event is free to attend, with its organizers touting the music as "family-friendly," with food also available for sale. Guests are encouraged to bring picnic blankets, chairs, or anything else needed to get comfortable on the grass.
If parking fills up to capacity at Harvey Park, guests are also permitted to park at the First Baptist Church right next to Harvey Park. Harvey Park is located at 4001 Miles Johnson Parkway. Further questions about the event may be forwarded to Meyer by calling (731) 616-0664.
Free Woman's Self-Defense Workshop
Where: 360 Krav Maga, 220 Town Center Parkway
When: Friday, 6:30 – 8 p.m.
Women are often over-represented in cases of physical and sexual violence in the United States, with one in four women being the victims of sexual violence, physical violence or stalking, compared to just one in nine men, according to the Centers for Disease Control and Prevention.
To better equip women with the means to defend themselves in such cases, 360 Krav Maga, a self-defense club in Spring Hill, will be holding a free women's self-defense workshop on Friday from 6:30 – 8 p.m. Those interested can register for the event in advance online by clicking here.
The workshop will simulate real-life scenarios in what 360 Krav Maga describes as a "safe and friendly environment." The self-defense club is run by Deanna and Brian Peters, with Brian leading the women's self-defense workshop on Friday.
Brian, who is also a black belt in Tae Kwon Do, will be the instructor for the workshop. Brian has been training in Krav Maga since 1999, and is a certified instructor under Eyal Yanilov, the co-founder and chief instructor of the international Krav Maga Global organization.
Laura Lane at Sidelines Grill
Where: Sidelines Grill, 3011 Longford Drive
When: Saturday, 7 – 10 p.m.
Sidelines Grill will see a live performance from local musician and performer Laura Lane Saturday evening, where she'll bring her unique blend of country, blues, soul and rock to the stage.
Growing up in a farming community just outside of Corinth, Mississippi, Lane was surrounded by music from an early age, learning to play the piano at just 8 years-old. Some of Lane's largest influences are Elvis Presley, Patsy Cline and Tanya Tucker, to name a few.
There's no cover charge for the performance, but live music often goes well with a beer and burgers, which guests can conveniently be served at the venue.
Sweeny Hill Farm Goat Yoga
Where: 5075 Main St.
When: Saturday, 9:30 – 10:30 a.m.
If you've ever wanted to practice yoga alongside goats, then Sweeney Hill Farm has got just the thing for you. The farm will be combining its love of goats, with the art of yoga this weekend during two separate Goat Yoga classes at the common area of the Early's Honey Stand shopping center, right next to Vintage 615 and Delta Bound.
Sweeney Hill Farm advises guests to wear t-shirts, as the goats hooves can be sharp at times. The event provides farm mats, so if you'd prefer a regular yoga mat, guests may bring their own.
Tickets are $20 a person, and may be purchased online by clicking here.
Whispers from the Past
Where: Rippavilla Plantation, 5700 Main St.
When: Saturday, 7 p.m.
Whispers from the Past, a paranormal event held at Rippavilla Plantation, will guide guests through the plantation as well as surrounding sites, where paranormal investigators will detail the history of the location, as well as try to make contact with spirits.
"We spend the night asking respectful questions, and trying to see who, if anyone, might be present with us," said Connie O'Loughlin, a team leader with Whispers from the Past. "This event is catered to learning about the spirits that may inhabit the property still. If [people] are interested in the paranormal at all, they're going to be interested in coming because we show people how to investigate professionally, and respectfully."
The Whispers from the Past will lead patrons through the plantation itself, along with several acres of the surrounding area including the barn, the cemeteries, a schoolhouse and a Civil War battlefield.
"There's been a lot of activity out there over the years," O'Loughlin said, speaking of the Rippavilla Plantation. "The history of the property itself is involved with the battle of Spring Hill, and later the battle of Franklin spirits. It was used as a hospital during the battles."