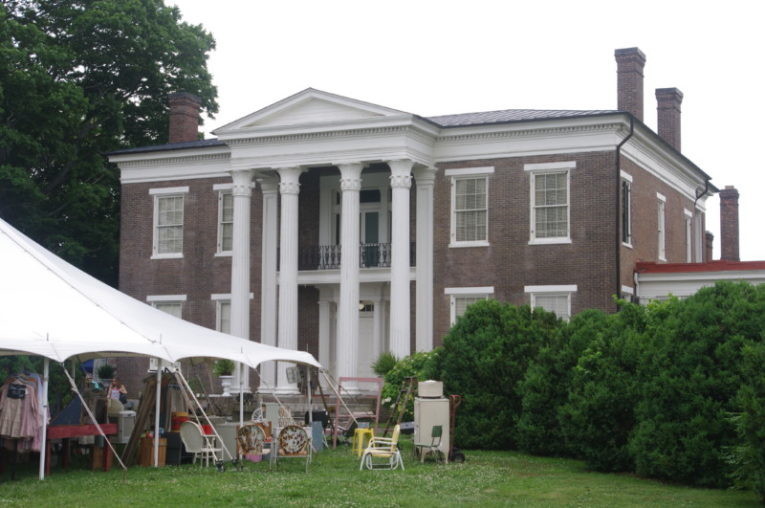 PHOTO: Last year's Swanky Plank, the Rippavilla Plantation's largest fundraiser of the year, saw well over 1,000 in attendance. / Photo by Alexander Willis
By ALEXANDER WILLIS
For the first time in weeks, the weekend weather in Spring Hill is looking bright, with the National Weather Service predicting only a 20 percent chance of thunderstorms on both Saturday and Sunday nights. With temperatures expected to range between the low 70s and low 90s, this weekend is the perfect opportunity for Spring Hillians to venture outside and have some fun, and here are four great ways to do so.
Swanky Plank Vintage & Handmade Market
Where: Rippavilla Plantation, 5700 Main St.
When: Friday, 12 – 8 p.m., Saturday, 9 a.m. – 4 p.m.
After a delay last month due to inclement weather, the seventh annual Swanky Plank vintage and handmade market, Rippavilla Plantation's largest event of the year, is slated for this weekend starting Friday, with a special preview party starting Thursday for those who purchase VIP tickets.
While vintage and handmade goods are often the star of Swanky Plank, there will also be live music, food vendors and other festivities during the three-day event. General admission tickets are $7 and are good for either Friday or Saturday, whereas the $30 VIP package grants guests access to the market on Thursday as well as Friday and Saturday — along with some other goodies.
Live music will include performances from Laura Lane, Robert Edwards Band, The Reverent Cavaliers and Spur of the Moment, among others. Food vendors include Marcy Jo's on the go, Yayo's omg, Pig N Out, and Country Boys, among others, with more than 50 shopping vendors already lined up.
All proceeds from the Swanky Plank will go towards maintaining and preserving the historic property. Tickets may be purchased online by clicking here.
Free Anti-carjacking Workshop
Where: 360 Krav Maga, 220 Town Center Parkway
When: Saturday, 11 a.m. – 1 p.m.
Self-defense club 360 Krav Maga will be holding a free anti-carjacking workshop Saturday in Spring Hill, teaching participants what they can do if ever confronted with a car burglar.
Car burglaries are far and away the most common crime in Spring Hill, with police reporting over 150 cases during the 2018 – 19 fiscal year. Nationally, carjackings are on the rise, with roughly 49,000 cases reported annually, 92% of which were committed when the person was alone in their vehicle.
Deanna Peters, who runs 360 Krav Maga along with her husband, Brian Peters, said the anti-carjacking workshop will help participants who are "addressed with [a carjacking] where you're having to get out of it, how do you do that, and what are the steps to go through it."
"Basically, it's taking any scenario that has to do with cars where you're approached from the outside… sometimes it would be if you get into a situation where you're in the car," Deanna said. "Also, just awareness as you're walking to the car. I know that we've had a few strings of burglaries and assaults that have happened just in the parking lot of different businesses, so we touch on that as well."
The workshop Saturday will be held from 11 a.m. – 1 p.m., and is free to attend, though online registration is encouraged, which can be done by clicking here. The 360 Krav Maga Spring Hill location is at 220 Town Center Parkway.
Sweeny Hill Farm Goat Yoga
Where: 5075 Main St.
When: Sunday, 12 – 1 p.m.
If you've ever wanted to practice yoga alongside goats, then Sweeney Hill Farm has got just the thing for you. The farm will be combining its love of goats, with the art of yoga this weekend during two separate Goat Yoga classes at the common area of the Early's Honey Stand shopping center, right next to Vintage 615 and Delta Bound.
Sweeney Hill Farm advises guests to wear t-shirts, as the goats hooves can be sharp at times. The event provides farm mats, so if you'd prefer a regular yoga mat, guests may bring their own.
Tickets are $20 a person, and may be purchased online by clicking here.
Riley/Land Collection Pop-Up Shop
Where: Parkway Wine & Spirits, 2026 Crossings Circle
When: Friday and Saturday, 10 a.m. – 7 p.m.
Joseph Land will be hosting a pop up shop on Friday and Saturday in Spring Hill for the Riley/Land Collection, a business that locally-made home items like candles, wooden tableware and more.
"In general, what I have is things for your home," Land said. "I have a line of candles, they're all hand-forged by a lady in Brentwood, [and] I have a line of five of those candles, one of which is the newest that I'm excited to bring to Spring Hill called 'Nashville Bound,' and the line of candles actually tell the story of my life."
In addition to candles, Riley/Land Collection will carry handmade wooden cutting boards, bowls, leather tote bags and goods, as well as a collection of cocktail mixers, cocktail foods like fried okra and green beans, plus his best-selling bourbon balls, a mix of chocolate and bourbon, a combination Land said were "two of the greatest things ever invented."
Every product Riley/Land Collection carries is acquired directly from the source, which its website reads can sometimes be "one person churning out an amazing wooden bowl, [and other times] it's a small team of 6-8 making chocolates by hand."