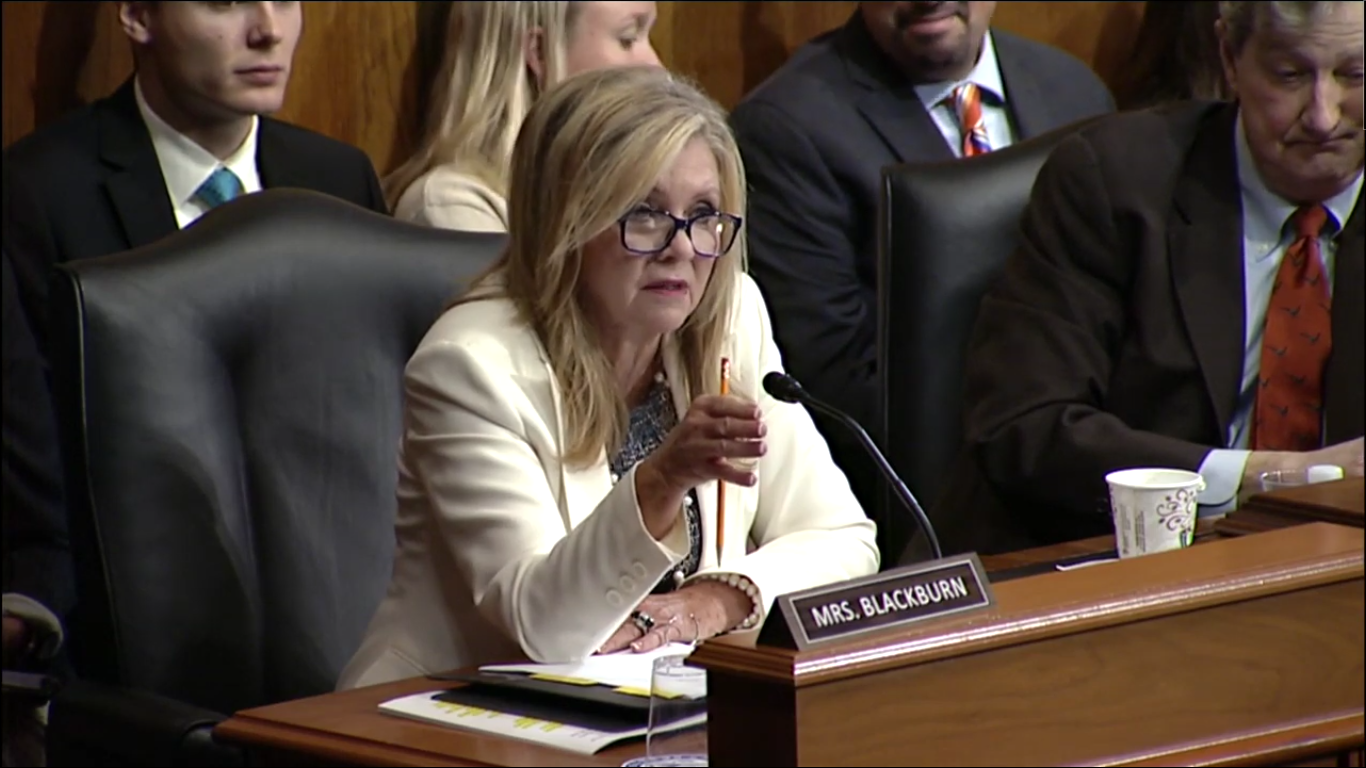 PHOTO: Marsha Blackburn speaks during the Senate Judiciary Committee hearing on Tuesday. / Courtesy photo
By ALEXANDER WILLIS
United States Senator Marsha Blackburn suggested Tuesday during a Senate Judiciary Committee hearing that social media apps, such as Snapchat and Instagram, should potentially have a ratings system. This ratings system would be similar to those in the movie, television and video game industries. 
Blackburn's suggestion comes in the wake of New York Financier and multi-millionaire Jeffrey Epstein facing charges of trafficking minors for sex, a story that has caught national attention. Epstein, who's source of wealth still remains a mystery, has rubbed elbows with some of the world's most influential and powerful figures, including Donald Trump, Bill Clinton, Woody Allen, Duke of York Prince Andrew, among many other judges, CEOs and celebrities. During his first hearing on Monday, Epstein had pleaded not guilty.
"As I watched and read what was happening with Jefferery Epstein this weekend, and how the authorities found hundreds of nude photos of these underage girls in his home… I think his case serves as a warning that predators really do lurk in every corner of society," Blackburn said. "Those protections that have existed in the physical world are not being transferred to the virtual space. These predators no longer lurk in AOL chat rooms, they are right there on all of these apps that our precious children are using, whether it is Snapchat, Instagram, Facebook or YouTube. Unfortunately, we do not have that regulation, and many of us have focused on this issue of safety of children online for years."
Blackburn likened the current situation with social media apps to the 1993 congressional hearings on video games, where violent video games such as Mortal Kombat compelled government leaders to push for a ratings system to be implemented. This ultimately led to the Entertainment Software Rating Board, which is still in effect today.
"The ratings are totally wrong on these apps," Blackburn said. "And therefore, the parents do not have the information to make an informed decision, nor do they realize that when you're in [Snapchat], and you get into that discover section, or that news feed… one thing leads you to another, and it is deeper and further down the chain of what is acceptable, or even expected by parents."
Snapchat, a social media app used by 76% of teens in the United States, is, according to the Apple App Store, appropriate for ages 12 and up. Despite having a zero-tolerance policy when it comes to accounts that promote or distribute pornographic content, the advocacy group Protect Young Eyes, an organization that advocates for protecting children and teens, discovered that Snapchat users could access pornography within just five clicks by using the Discover section of the app.
One of Protect Young Eyes' founders, Christopher McKenna, was a guest during the hearing Tuesday, with Blackburn asking him what he might suggest to curb the unregulated social media market.
"What can the apps like Instagram and Snapchat do to embed into these applications," Blackburn asked McKenna. "They can manipulate these algorithms if they so choose – they are choosing not to do it. So if you were building that algorithm, what would you embed?"
"We want children to learn how to use technology and to use these apps, we just would argue that parents need a choice as to what features their children do and don't have access to inside of these apps," McKenna. "So if I were creating a picture app, I would allow children to truly have a private account with a curated set of contacts that would not allow people who are not a part of that curated list to be in contact with. I would eliminate the ability for strangers to contact [them]."