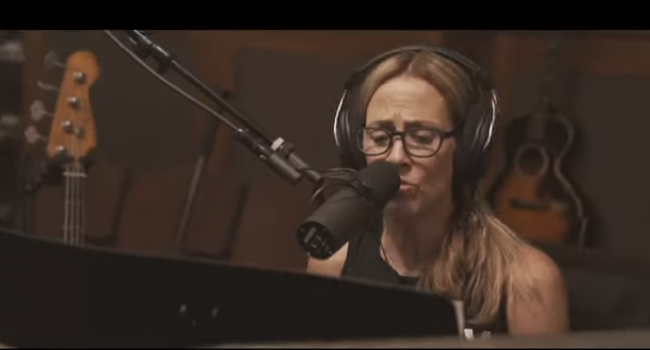 STAFF REPORTS
With her forthcoming album Threads, Sheryl Crow has shown that she is  confident in her place as an American singer-songwriter. The record — made up of collaborations with a varied all-star cast that includes, among others, Stevie Nicks, Neil Young, Mavis Staples, Willie Nelson, Brandi Carlile and St. Vincent — even features her performing a duet of "Redemption Day" with the late Johnny Cash.
Having pulled that off in compelling fashion, why wouldn't she take on a Bob Dylan cover? That's what she's done with her performance of Dylan's "Everything Is Broken" from his 1989 album Oh Mercy. To join her on the track, she enlisted fellow Nashville-area Americana ace Jason Isbell, and now you can watch a video of them performing and recording the song in the studio.
Their version reveals the tune to be perfect for a duet, as Crow and Isbell trade verses and eventually bat lines back and forth as the song's familiar blues riff chugs along. Naturally, there's also some fiery guitar work from Isbell and at one point the camera zooms in to glance at the Dylan lyrics tattooed on his forearm (from "Boots of Spanish Leather").
Threads is out Aug. 30 and Crow will be home for a two-night stand at the Ryman on Sept. 23 and 24.