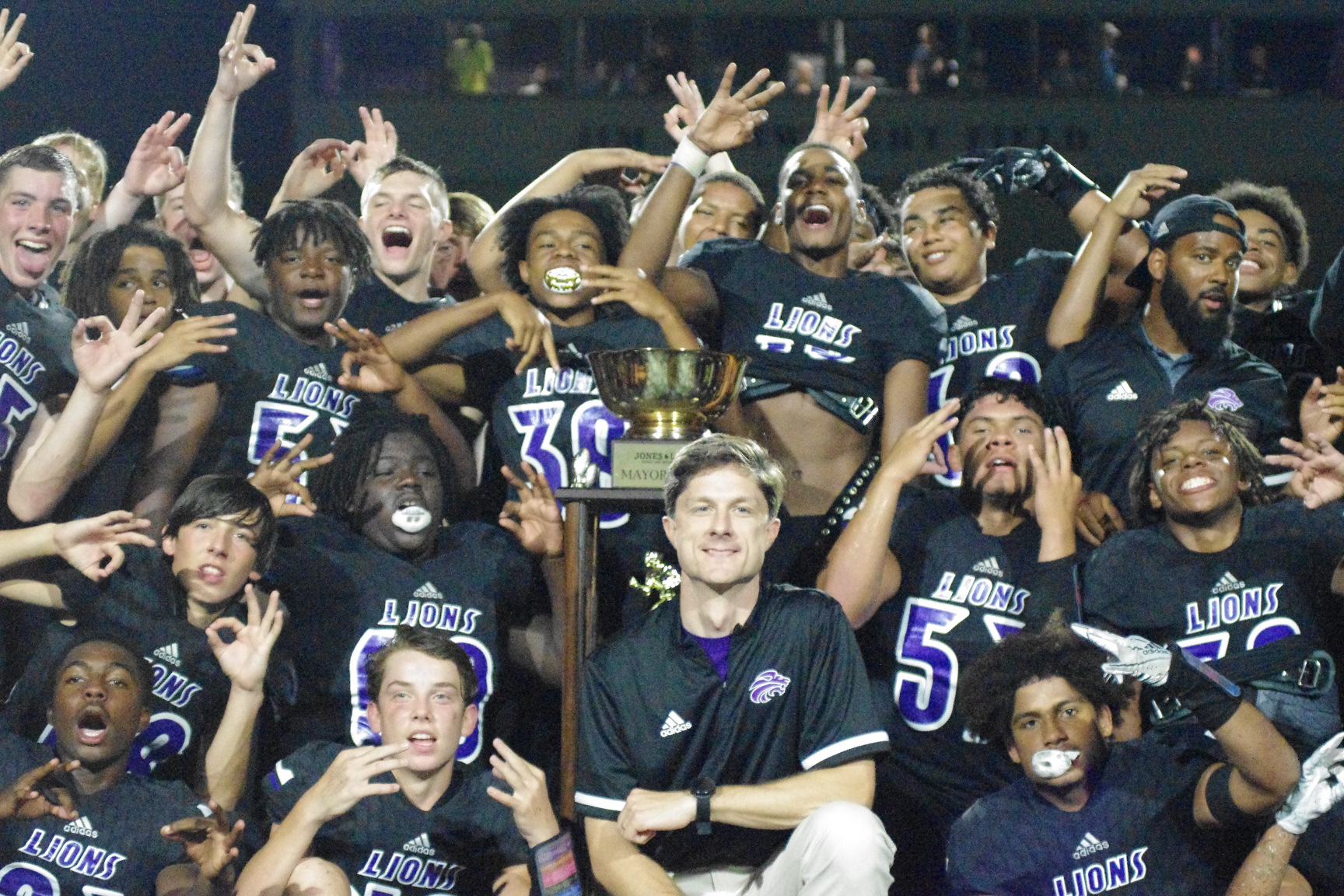 PHOTO: Columbia Mayor Chaz Molder poses with the Columbia Central Lions after winning the Mayor's Cup football game Friday night. / Photo by Alexander Willis
By ALEXANDER WILLIS
For the third year in a row, the Columbia Central Lions emerged victorious over the Spring Hill Raiders Friday night in the annual Mayor's Cup, a tradition started in 2017 that sees the two rival football teams compete for the Mayor's Cup trophy – and bragging rights.
With only a single point granting the Lions victory with a score of 13-12, both teams struggled offensively to gain any ground throughout most of the game, with plenty of turnovers on both sides before halftime.
The Raiders came out strong during the first quarter, blocking a punt near the Lions' end zone and running it in for a touchdown. Failing the extra point attempt, however, the Raiders would fail to gain any significant ground until the third quarter, as did the Lions, netting the game's score at halftime 0-6.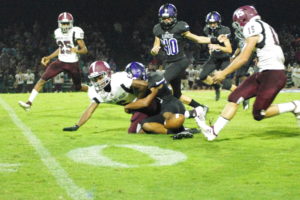 With humidity levels at 100 percent Friday night, many players succumbed to severe cramping – something Raiders' head coach Ben Martin said played a role in some of the mistakes made during the game.
Fast forward to the third quarter, and the Lions managed to score their first touchdown with a run through the middle. The Raiders were successful, however, in blocking the extra point kick, deadlocking the two teams with a score of 6-6.
With the momentum on their side, the Lions managed to score a second touchdown during the third quarter, as well as a successful extra point kick, giving them a hardy lead of 13-6. The Raiders weren't finished, however, successfully running a quarterback sneak along with a subsequent successful extra point kick, bringing the score to a more competitive 13-12.
What followed in the fourth quarter was very much a repeat of the first half of the game; both sides traded possession of the ball frequently, with no one team gaining any significant ground. This continued for the duration of the fourth quarter until the clock read zero, netting the Lions' the Mayor's Cup.
Despite the loss, Coach Martin still said he was thrilled with his players' performances, and that they all "gave 100 percent."
"They left everything on the field, [and] I couldn't be prouder of their effort and the way they played tonight," Martin said. "We're down two starting linemen on offense and defense, and we asked some kids to step up and they did."
When asked where he'd like to see some improvements, Martin said "it's execution."
"It's execution, and then there's things you can't control," Martin said. "It's the first game of the year, it's muggy out here, we had a lot of cramping, we had guys that couldn't go and we're not deep enough right now [for that] to not affect us."
He mentioned one standout Raider for his performance.
"Number six, Remone Kelley, had a big game for us," Martin said. "He had a couple key receptions that helped us, and we kind of found a soft spot right there and took advantage of it.
"But kudos to Central, they prepared their kids really well and had a good game planned for us. We just didn't make the plays we needed to make, but like I said, I couldn't be prouder of our kids. They really left it all on the field."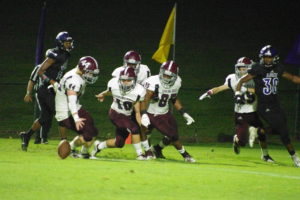 While the game is set and done, the story of the Mayor's Cup has still yet to see its full conclusion.
Spring Hill Mayor Rick Graham had previously accepted a bet from Columbia's Mayor, Mayor Chaz Molder. The bet stipulated that whichever city loses the Mayor's Cup would have to send their mayor to the winning city's next city meeting, wear the winning team's jersey, and recite the winning school's motto.
"I better be learning the Columbia Central motto, huh," Graham said, laughing. "We'll have some fun with it, and then next year we'll get them back on our turf. It was a good game, 13-12… It wasn't a high scoring game as we had in the last two years, [but] it was good."
Molder said he was looking forward to Graham's visit, and that he has the jersey all set and ready to go.
"Really excited for Columbia Central, but really more excited about the quality of the night we had between two rivals," Molder said. "Good game on the field, good atmosphere outside the field and the park area, and huge crowd, and that's really what it's all about – bringing our communities together.
"Mayor Rick Graham and I had some good conversation and a good opportunity to talk about the fact that we're going to be looking forward to seeing him at the city council meeting here in a couple weeks. I'm going to have a purple jersey just for him."
The meeting where Graham is expected to wear Columbia Central's jersey and recite their school motto takes place on September 12, 5:30 p.m. at 700 North Garden Street, Columbia, TN 38401 – just be sure to bring a camera.