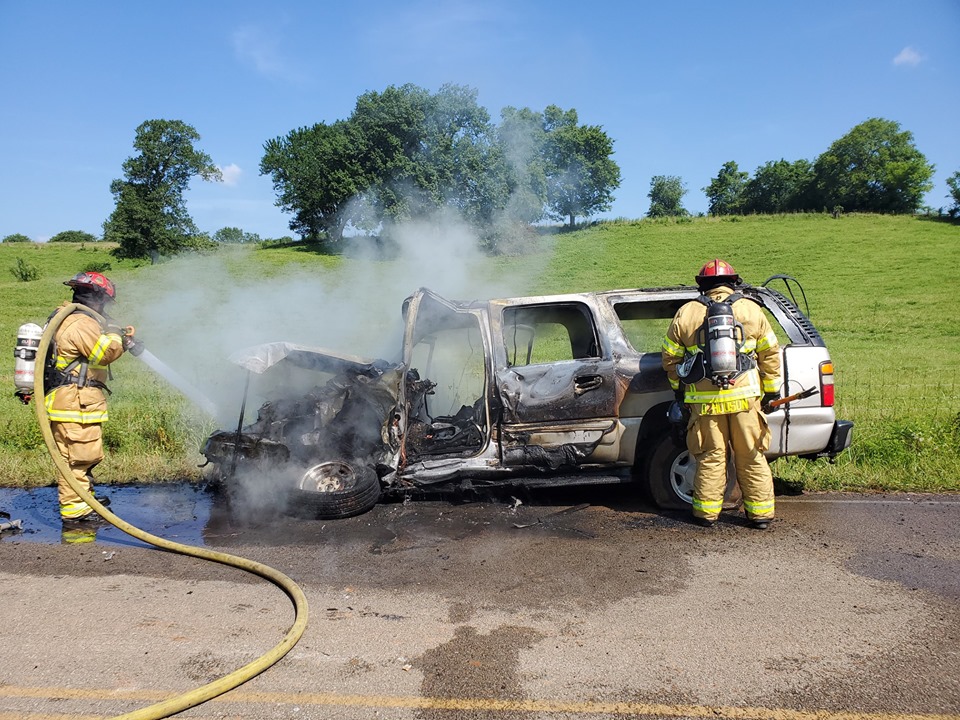 Photo courtesy of the city of Spring Hill
BY ALEXANDER WILLIS
A group of five bystanders rescued a man from a burning vehicle Tuesday morning just outside of Spring Hill after the driver had collided with a dump truck on Cleburne Road, causing the vehicle to become engulfed in flames. The driver was life flighted to Vanderbilt University Medical Center in Nashville, and was described as having suffered critical injuries.
The driver was traveling south on Cleburne Road when the collision took place. Two dump truck drivers, two other bystanders and Chris Crumley, a utility inspector for Spring Hill Public Works Department, came to the man's rescue.
"The gentlemen all jumped out, and [the driver] was unconscious, not responsive," said Spring Hill Fire Chief Terry Hood, who responded to the accident in minutes. "[They] attempted several times to get the door to open up forcibly – couldn't do that, the whole time flames were leaping at them. One of the guys in the group backed the dump truck up, took a long chain, wrapped it around the door and took the dump truck and literally just yanked the door off the hinges. The rest of the gentlemen reached in and brought the gentleman out and dragged him to safety."
Hood, who was at city hall at the time he got the call at approximately 9:46 a.m., said had it not been for the efforts of the five bystanders, the driver would not have survived.
"They saved the man's life — there's no doubt in my mind," Hood said. "I don't carry water in my staff vehicle, [so] when I arrived on the scene, there was nothing I could have done to save him because the vehicle was fully engulfed at that time. If it hadn't been for their effort, he would have perished in that crash."
Hood said shortly after arriving at the scene, first responders feared the man's daughter could be trapped in the vehicle as well, but later learned the man had just dropped her off at Spring Hill Middle School minutes prior.
Hood said the man suffered severe trauma to his face and lower abdomen, and that his current condition is still unknown.
The rescue had been a joint effort by the Spring Hill, Columbia and Maury Fire Departments, the Spring Hill Police Department and the Tennessee Highway Patrol.
"All of them are heroes," Hood said of the bystanders. "Not every day does somebody run up to a blazing vehicle and attempt to rescue somebody."