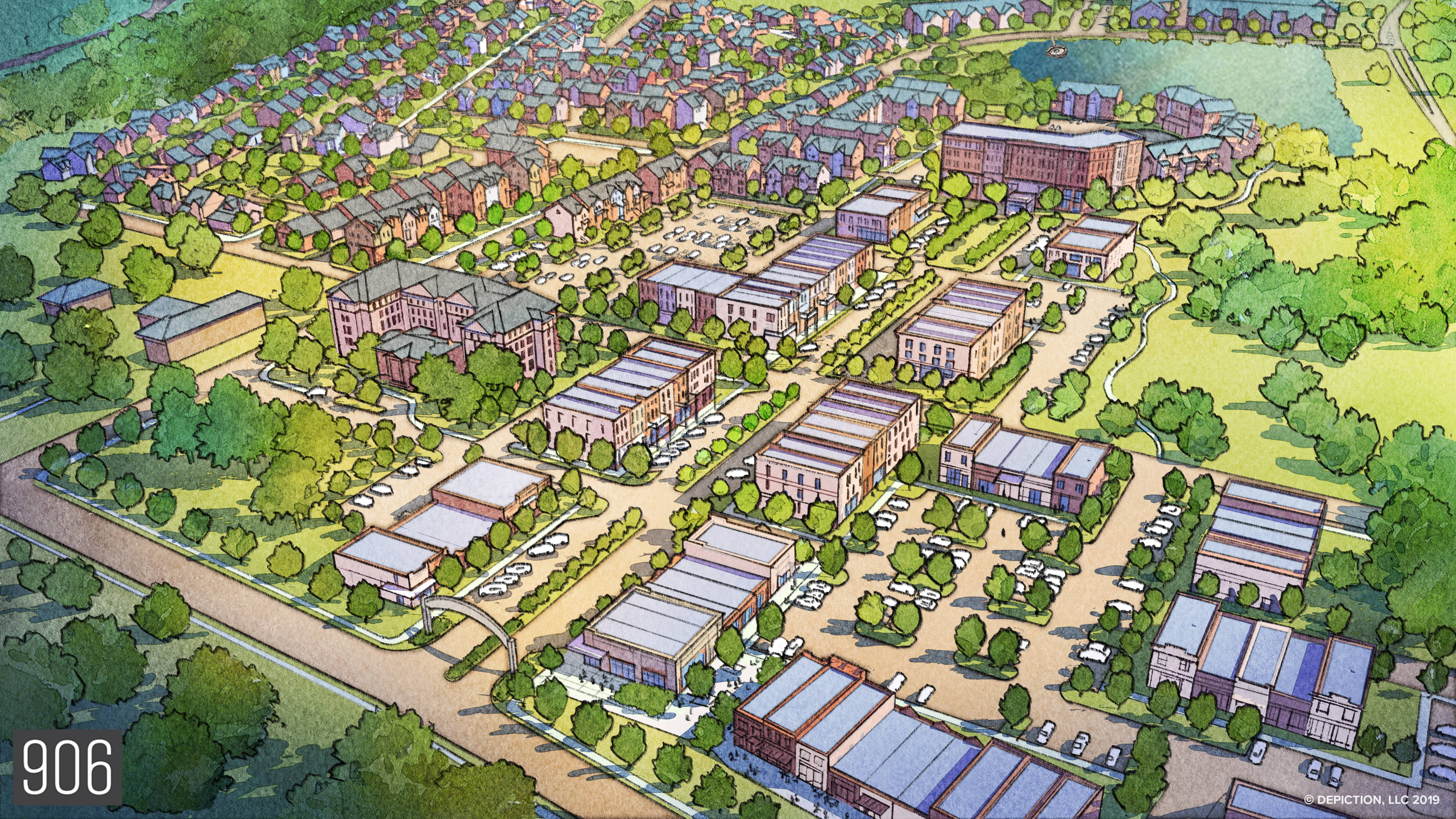 This story was edited on July 17 to alter an error in which elected officials were mistakenly referred to as "city staff"
PHOTO: Concept art by Mike Hathaway of 906 Studios shows the planned design of the Tennessee Children's Home redevelopment project. / Courtesy photo
By ALEXANDER WILLIS
The redevelopment project that would see the Tennessee Children's Home on Main Street transformed into over 100 acres of commercial, restaurant, hotel and residential space saw its first major approval by the Spring Hill Board of Mayor and Aldermen during Monday night's meeting. Despite the approval, not all aldermen were on board with the project, who cited responsible growth and the high amount of residential development in the project as major concerns.
History
First introduced to the city in late February, the project's residential portion would see the development of 127 single-family lots, 101 townhomes, 40 cottages, 315 multi-family apartments, and 100 assisted living and condo residences. It's commercial portion would see the development of 90,000 square feet of retail and office space, 20,000 of restaurant space, 69,000 of corporate office space, two hotels, and 40,000 of second and third floors of office space above existing residential development.
The project would also see the historic Ferguson Hall incorporated into a new hotel, acting as a central hub of sorts to the new downtown district.
The project's developer, Catalyst Design Group, also held a public meeting last week, taking input from the community, during which is was also revealed that the project was projected to generate roughly $100 million in revenue for the city over a 20-year period.
City leaders share where they stand on the project
One of the first Aldermen to speak on the item was Vice Mayor Amy Wurth, who voiced her grave concern for allowing that level of high-density development on an already stressed roadway.
"So what is being proposed tonight is to put in retail/flex office space, hotel condominiums [at] 250 rooms, [three-story] townhomes [at] 101 units, multifamily [at] 315 units, condo cottage homes [at] 40 units, senior-assisted living [at] 100 units, single family residential [at] 127 lots total, and live/work single family residential [at] eight lots," Wurth said. "That is a lot of residential, it's a lot of homes, it's a lot of cars coming out on Main Street, School Street, Kedron [Road], and the improvements that are in the phasing for roads can't accommodate this type of density."
Wurth continued, saying that she didn't believe the project to align with the city's Comprehensive Plan, a design document of sorts that outlines growth in the city for the next 20 years.
"Furthermore, we have a task force that Mayor, you put together to evaluate the town center," Wurth said. "This doesn't follow the comprehensive plan for that town center. We're going against everything we've done so much work [for]. We've done all the studies… this doesn't even come close to following them. And the impact to our roadways, our water/sewer plant, our police, our fire… this is [a] substantial addition to the city services that we provide, and the cost would be great to the city and the taxpayers."
Alderman John Canepari, who campaigned on 'responsible growth' during the city election in April, mirrored Wurth's concerns, arguing that the phasing of the project was not ideal.
"I ran my campaign and got a great response about responsible growth, and the phasing on this project I still do not like," Canepari said. "We're doing residential of course because we can sell residential, but what happened to commercial, what happened to retail? That's in phase three, four and beyond, so for that reason, I won't be supporting it."
Alderman Vincent Fuqua spoke in favor of approving the project, if not just to see it move further down the pipeline. Fuqua argued that the city would never be able to fully dictate the specifics of the development of a downtown, and that it if the board continues to get hung up on every minor issue, Spring Hill may never see a downtown district.
"The city of Spring Hill will never develop their own downtown area as unique as a particular board will want that to be, so sticking a particular development entity with 'you design this or nothing,' we will never be able to have a Five Points in Franklin or a downtown area similar to that of Columbia," Fuqua said. "I will be supporting this on first reading, [and] I appreciate the potential investment to Spring Hill."
Alderman Dan Allen spoke in favor of the project as well, praising the developers for their willingness to alter the project in accordance with the city's plans, saying they were "hitting a lot of high points." Alderman Hazel Nieves was also supportive of approving the project's first step, saying that "one of the things we're missing for citizens to be able to really feel connected to a place that we call our city," and that the project deserved to be approved Monday.
Ultimately, the project's request for preliminary plan approval passed with a vote of 7 – 2, with Aldermen Wurth and Canepari voting against.
Following the meeting, Jeffrey Heinze of Catalyst Design Group said he was happy to see the board approve the project, but that he was "taken aback" by some of Wurth's comments that the project didn't follow the Comprehensive Plan.
"The proposal as it is really honors the principals of Spring Hill Rising 2040 and the [Comprehensive] Plan, [so] I was taken aback by that comment that it doesn't follow that, because it calls specifically for many of the points in there," Heinze said. "From the residential to the mixed-use, to the connectivity to the walkability, it's verbatim item for item."
In regards to Canepari's comments regarding the phasing, which in the project sees the first two phases consist of mostly residential development, Heinze said one of the main factors in that decision was to allow for the Tennessee Children's Home to continue operating at the location until a new location can be acquired.
"I think we have followed the provisions for what downtown needs to infuse residential along with commercial and retail, because those two work together," Heinze said. "Without the one supporting the other, you don't have successful long term viability for your merchants, especially smaller venue merchants which is what we're seeking."
Expected to have a build-out period of roughly 10 years, the project will continue to grace the desks of city leaders in the coming months. Stick with the Home Page for those developments.