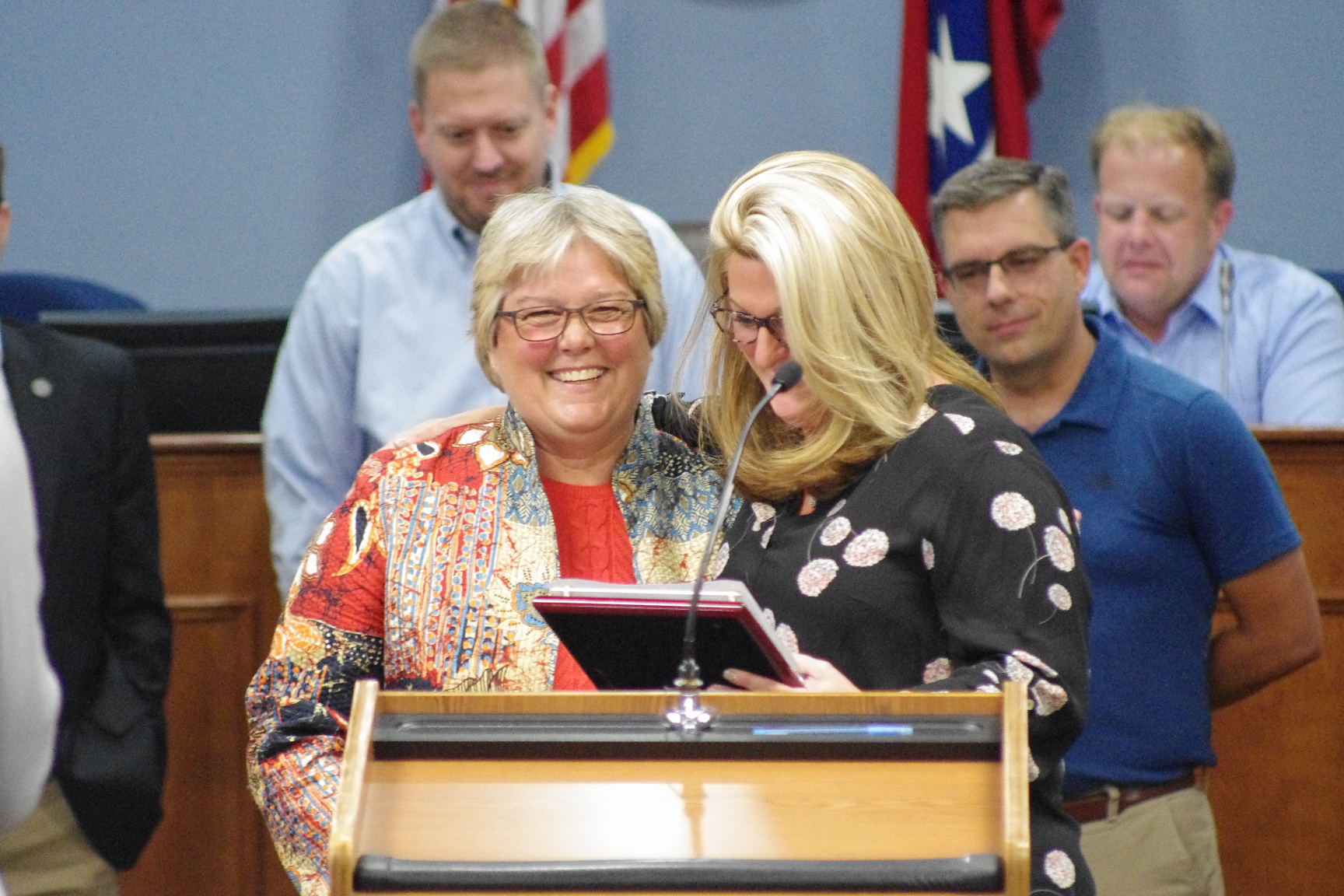 PHOTO: Vice Mayor Amy Wurth congratulates Caryl Giles after 17 years of serving the city of Spring Hill Monday. / Photo by Alexander Willis
By ALEXANDER WILLIS
After 17 years of serving with the city of Spring Hill, and 40 years total of working in the water treatment industry in Williamson County, Caryl Giles was honored by city leaders Monday night after making her retirement from the city official.
A Nashville native, Giles said she had grown up in Williamson County her entire life, graduating from Franklin High School in the late 70s.
Beginning her career all the way back in 1979, Giles never planned on going into the water treatment industry, and instead said she "literally fell into the water business."
"Early 1979, a friend of mine came into a place that I was working at the time, and said they're hiring at the water plant and [they thought I] was a good candidate," Giles recounted. "I applied for the job, and literally fell into the water business… it just kind of happens that way."
Beginning her career in Franklin as a 20-something young woman, Giles said the industry was almost entirely male-dominated at the time, something that early on her career gave way to some dicey situations.
"I started with the city of Franklin, and I was the only female there, and those male figures were in their 50s, and I was a 20 year-old girl, so yes, I experienced some pretty hairy situations there if you will," Giles said. "You just had to stand your ground."
When asked for advice for other women working in a mostly male-dominated industry, Giles said it was simply a matter of perseverance, as well as standing up for yourself.
"Just stand your ground," Giles advised. "You [have] just got to stand your ground, believe in yourself [and] keep looking forward. The possibilities are endless if you keep striving."
Despite the occasional 'hairy situation' as she put it, Giles said her experience with the city of Spring Hill was among the best she'd ever experienced, and that, by far, her favorite thing about the job was the people she worked with.
"My favorite thing about serving as superintendent, I would say the people that I've worked with," Giles said. "Most of the people that have come across my path and worked for me had no experience whatsoever in water treatment, and it was rewarding on my part to see them develop. A lot of them became certified operators through the state of Tennessee, so it shows that they had passion for what they were doing as well."
While officially retired, Caryl said that she still "had a lot in store that'll keep me going." Caryl and her husband of more than 40 years, Mike Giles, own a farm together with around 60 heads of cattle – something she said will likely keep her busy.
Beyond her farm, Giles said she plans to drop back by Spring Hill now and then to help the new water treatment plant staff continue to make things run smoothly. Giles' youngest son is also in college, her eldest son owns a farm, and she hopes to one day build a pool. So while her days as a water treatment superintendent may be behind her, water may very well be a part of her future – something that Giles likely hopes will be in the form of her very own swimming pool.