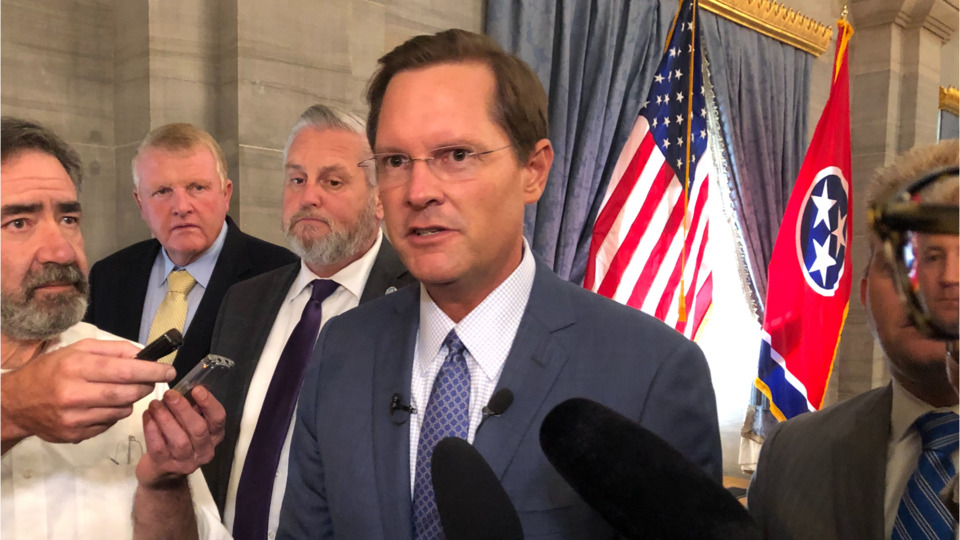 Photo by Stephen Elliot
By ALEXANDER WILLIS
Cameron Sexton, who received a majority of votes from the House Republican Caucus to be propped up as the next House Speaker, has named Scott Gilmer as his pick for his Chief of Staff. State Representative Sam Whitson also spoke highly of Sexton, praising both his character and voting record.
Gilmer has previously served as Chief of Staff for multiple House Speakers throughout his ten year tenure in the Tennessee General Assembly, including for House Speaker Beth Harwell, as well as Glen Casada before Casada's previous Chief of Staff, Cade Cothren, left his position in May following the texting scandal that ultimately saw Casada resign.
"My vision as Speaker of the House of Representative is stability, policy, and consistency, and Scott Gilmer exemplifies those three categories," Sexton said in a press release. "Scott's experience and institutional knowledge will provide a steady hand and a smooth transition as we move forward and continue to build upon our successes."
Whitson said Sexton had helped him in his campaign for state legislator in 2017 before even becoming acquainted, and that he admired the way Sexton voted in accordance with his beliefs.
"What I was very impressed with Cameron is [during] this most recent session, he stood firm and he did not vote for vouchers either," Whitson said. "He was kind of like me; he voted no, but he didn't make it a fight against the governor in what he was doing, he just decided he could not support it based on his constituents, and I admired him for that. He probably took a lot of heat being in leadership doing that."
Ultimately, Whitson said Sexton's expertise on both politics and policy is what would make him a solid pick for the next House Speaker.
"I think Cameron is well respected across the entire caucus, and I had a lot of Democrat friends that respect Cameron," Whitson said. "He knows politics and he knows policy, probably those two better than anybody else. Where some people are good at politics, some people are good at policy, what I see about Cameron is he has [a] good grasp of both of those, and that's pretty impressive."
Sexton's pick of Gilmer for his Chief of Staff has not come without criticism, however. In 2009, Gilmer entered a plea of no contest to a misdemeanor criminal charge after allegedly creating a fake social media profile for Nathan Vaughn, a former Democratic state legislator, casting him as a Union sympathizer.
Former chair of the Democratic Party of Williamson County Holly McCall and former Democratic congressional candidate Justin Kanew have both been critical of Gilmer's past actions, with Kanew saying Gilmer has "a checkered past when it comes to racial issues."
Nevertheless, the State House will reconvene for a special session in Nashville on August 23, where the next House Speaker will be chosen.