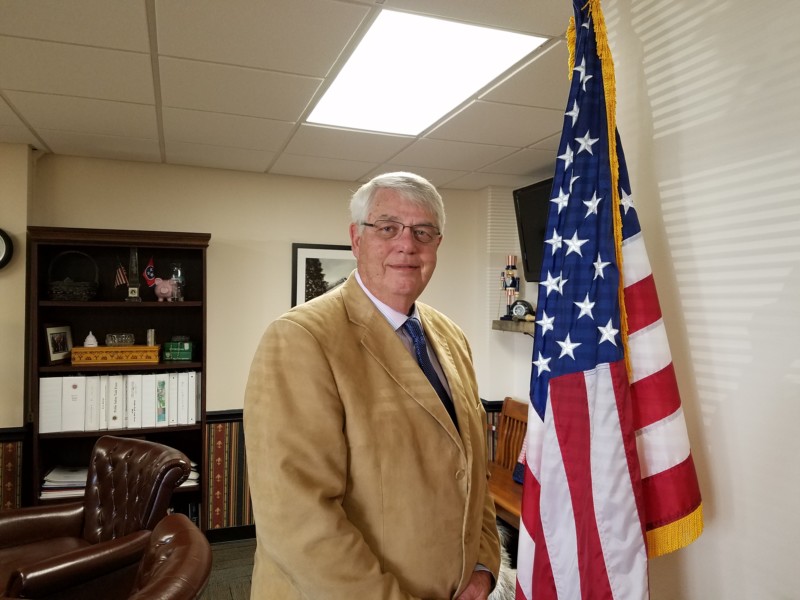 By AMANDA HAGGARD
At the annual State of the County, Williamson County Mayor Rogers Anderson outlined the county's achievements in the past year, as well as one thing the county might improve on.
Anderson addressed what he said was the largest attendance for a State of the County at the Franklin Marriott Cool Springs on Wednesday.
"We are fortunate to live in a great county — a county that is recognized for our business community, our services, our values and many qualities of life that we enjoy and maybe take for granted," Anderson told the audience.
Among the things Anderson noted as successes: The county is among the highest in voter turnout among registered voters in national elections, Anderson said. Beginning this school year, Williamson County will have more than 1,000 new students in the district — and they've added, or are in the process of adding, 152 new teaching positions.
"Seventy-three percent of all your tax dollars goes toward public schools, 27 operates everything else — that's a good model," Anderson said.
The county also recently partnered with Spring Hill to provide emergency dispatch to streamline emergency operations. As part of that effort, the time it will take emergency services to reach people in need will be drastically reduced.
He also indicated that more than 60 percent of the county's acreage is still green space. As the county is expected to grow 66 percent by 2048 — around 382,000 people — Anderson says it'll become increasingly important to make wise decisions about how to develop that space.
"That's why you need to tell the planning department how you want it to look in the next 10-to-15 years," Anderson said.
The county is working on improvements to the juvenile detention center, which Anderson said was overcrowded and does not meet standards and best practices for safety.
"Williamson County has always valued the importance of educating our children, we have to be a leader in protecting them now," Anderson said. "There's just too much going on with our kids that we need to focus on. … We've got to figure out how to deal with our children that make it into our juvenile system."
Though Williamson County's neighbor Davidson County often gets a lot of attention for drawing tourists, Williamson County recently saw a 13.6 percent increase in visitors from 2017 to 2018 — more than 1.5 million tourists visited the county 2017 and more than 1.72 in 2018.
"It is not unusual for those of us who've lived here a long time to forget to explore our own backyards," Anderson said. "By doing so you're missing out on a number of exciting things."