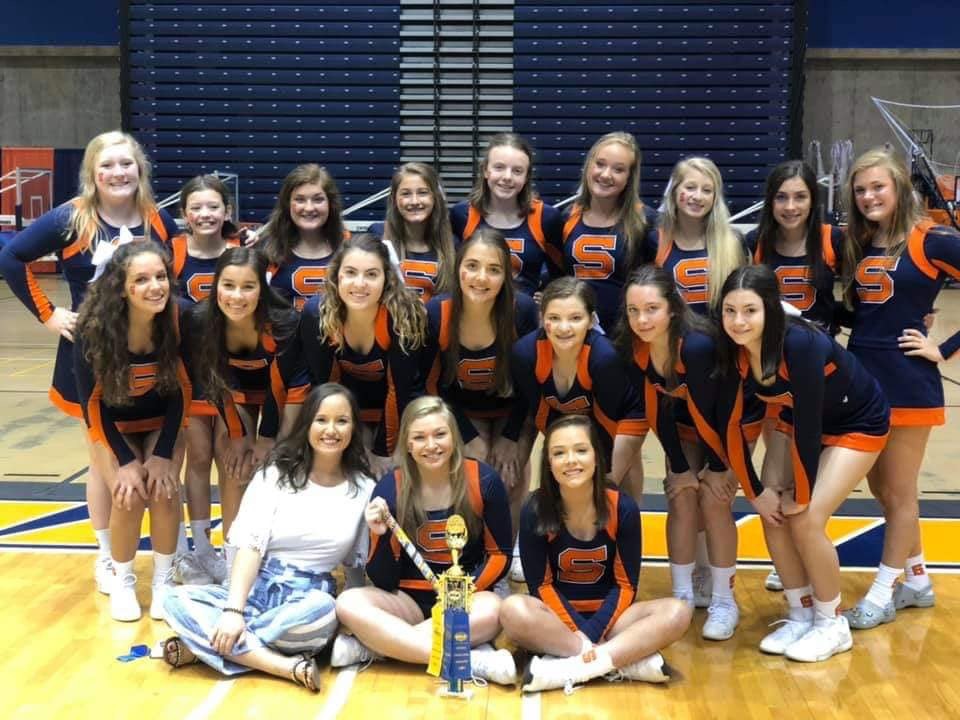 BY MITCHELL STEPHENSON
Today we're spotlighting Summit High School cheer coach BreAnna Hankins.
Coach Hankins is an Independence High School alum, class of 2011. She went on to attend and graduate from Eastern Kentucky University in 2015.
She returned to the area and is currently a leader in the athletics department for Summit.
How has the cheerleading program impacted the Summit Community (Students, Fans, etc.)?
BH: I think some people in our community forget that Summit is still a young school (less than 10 years). We're still in the process of establishing traditions, which is a really fun process to be a part of.
The cheer program has seen a lot of changes in leadership in its short run. Last year I took on coaching the basketball squad during my first year of teaching and now going into 2019-20 I am over the program.
With that being said, I'm eager to get started laying down some roots, continuing set traditions, and hopefully creating some new ones! One huge goal of mine is to achieve more community involvement at our athletic events, give back to our community whenever we can, and be a positive representative of Summit as a whole.
Can you share the dynamics of how you and your assistant coaches manage your squad?
BH: As of right now I am a one man show! Which some may think I'm crazy, but one of my goals going into tryouts was to focus on quality versus quantity so I truly believe I have a group of 18 young women that make my job not feel like work.
I try my best to give my girls all the tools they need to be successful and try hard to implement structure like what they'll find out in the "real world" one day. In 5-10 years, I want them to look back and be thankful for their time in the program and feel as if they are a better prepared young adult from the help of my coaching style.
What are some of the skills necessary to be a successful cheerleader?
BH: Like I previously stated, I truly focused on quality over quantity this year which my team is thankful that I stood my ground on. When it comes to being a Summit Cheerleader, I am looking for the overall package! I'm looking for an athlete that presents themselves in the highest regard on the field/court, in the classroom and when they are out in our community especially.
Athletes who continue to improve on their skill set whether that be tumbling, stunt building, strength, enthusiasm, etc. Lastly, someone who is going to give me 100% every time. All 18 of them are my starting line up, at all games, all the time. There aren't off days in cheer; they must all be "on" at all times.
Can you share some off the court successes of your students/athletes (educational, community involvement, etc.)?
BH: Mackenzee Kirby (Sr) and Bailey Kelley (Sr) – Medical Science Pathway Clinical Internship Students
Mackenzee Kirby (Sr) – Summit Girls Cotillion Vice President
Emma Koza (So), Emily Barrios (So), & Mackenzee Kirby (Sr) – UCA All American Recipients
Maggie Carlisle (Jr) – Rotary Club Secretary
Emma Cooper (So) – School Spirit Student of the Month May 19'
Rylee Bennett (Fr) – Multi Sport Athlete (Cheer and SHS Wrestling)
Maggie Carlisle (Jr), Rylee Bennett (Fr), Luka Ornellas (Fr), Emma Koza (So), Emma Park (So), Josalyn Sparks (Fr), and Lilli Drescher (Fr) – UCA Game Day Division National Champions 2018