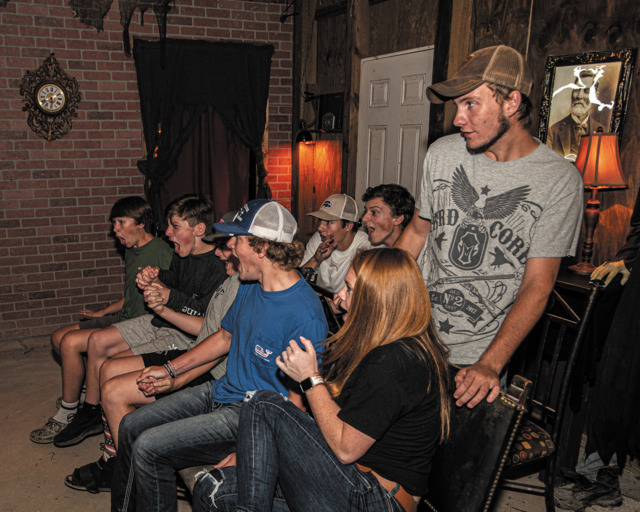 By ERICA CICCARONE AND TONY YOUNGBLOOD
We're weeks away from that most hallowed of traditions, and the veil between the worlds of human and spirit grows thinner by the day. With more than 10 haunted attractions within a 40-minute drive of Nashville, there's no shortage of Halloween frights. This year, we visited four of the area's biggest and lived to tell the tale.
We rated the haunts using the following metrics. Did the actors live to scare, with ghastly makeup and frightful costumes? Were the sets, props and effects sufficiently spine-chilling? Was it organized? Entertaining? Did we find ourselves stalled behind another group within the house? We also looked for a story and theme. In our experiences in other cities, the best haunted houses tell a cohesive story that makes the haunt more than a series of jump-scares — a world we enter and fear we'll never leave. We'd like to see haunted houses take a cue from immersive theater pieces, like New York's Sleep No More, which uses carefully choreographed performances to make each experience feel authentic and special. None of the haunts we reviewed rose to such heights, but we challenge the locals to up their storytelling game for 2020.
Based on the aforementioned criteria, we scored each attraction in two categories: Frights and Delights. Thrill-seekers should seek out haunts with a high Frights rating. People just looking for a good time should visit the spots that scored high in Delights.
We attended the haunts at the beginning of the season, in some cases on opening night. We've taken into account the fact that the haunts' hard-working staff members may still have been ironing out kinks. Due to time constraints, we had to leave out a few worthy haunts — Slaughterhouse, Devil's Dungeon and Millers Thrillers Haunted Woods are worth checking out, too. And, of course, there's the completely bonkers "extreme haunt," McKamey Manor in Summertown.
Nashville Nightmare 
1016 Madison Square, Madison
$30 
Frights: 4/5
Delights: 4/5
Calling Nashville Nightmare a haunted house isn't exactly accurate. It's a lot more like a carnival. The price of admission gets you into five haunted houses, and the sixth — a house where scary clowns can reach out and touch you — is an extra $7. The park is full of actors in elaborate costumes who are not shy about engaging with you. There's alcohol, snacks, games, ax-throwing and an escape room. You can make a full night out of this one and stay for hours. The ride paths are organized, but waiting around for five haunts will probably get tedious later in the Halloween season and feel more like an assembly line.
Nashville Nightmare was the most professional of the haunts we tried, almost in the same league as St. Louis' The Darkness and Atlanta's Netherworld. Each house has a different theme, and from distrubed nuns to post-apocalyptic uglies, overzealous morticians and fairy-tale-characters-gone-wild, the actors at Nashville Nightmare live to scare.
The sets of a few of the houses were so detailed that we wanted to stop and look around. The paths are packed with large and small animatronic creatures that fit pretty seamlessly into the haunts. Nashville Nightmare ratchets up the disorientation factor with eerie laser and lighting effects, so the scares are all the more shocking.
You should know: Nashville Nightmare is super popular, so wait times might get hairy.
Overall: It expresses a solid vision that's executed well.
Creepy Hollow Haunted Woods 
2133 Joe Brown Road, Spring Hill
$28
Frights: 3/5
Delights: 5/5
The most festive of haunts, Creepy Hollow is located on 33 acres and includes four attractions. The haunted barn featured some of the most original interactions we've experienced this season, including one with a spooky Bloody Mary (y'know, from that urban legend about looking into the mirror and saying "Bloody Mary" three times) and another with a magician's assistant — we won't spoil the details. The sets were well constructed with traditional haunted-house design themes.
Once you're out of the house, the haunted woods offer the added benefit of, well, being in the woods — where anything can happen (including tripping over a protruding root, so be careful). Plenty of actors line the tortuous trail, popping out intermittently to deliver one of the most chilling moves there is: the follow. They've perfected it. We went on opening weekend, and it seemed they were still working on their timing. The third attraction is a zombie maze, which was the easiest of the three mazes we experienced overall — see below for details about the ones at Haunted Hell and Beast House. The fourth attraction, a haunted hayride, wasn't in operation on opening week.
Creepy Hollow Haunted Woods has set up a great waiting experience, with picnic tables and seating, a roaring fire and a screen showing classic horror-themed music videos. There's also a snack stand where you can get sodas, hot dogs and nachos. They'll call your number a few minutes before your group is set to enter the house, so you can relax beforehand — and maybe tell a ghost story or two.
You should know: If you get too scared during the haunt, you can yell "Candy corn!" and the actors will back off.
Overall: With creative scares and a welcoming atmosphere, Creepy Hollow Woods is well worth the 55-minute drive from downtown Nashville to Spring Hill. It's not the most gruesome, and of the spots we tried, it's probably the best haunt for kids. We had a blast.
Haunted Hell 
3930 Apache Trail
$20
Frights: 3/5
Delights: 4/5
As we pulled up to the Antioch strip mall that houses Haunted Hell, we were greeted by the ear-splitting sounds of some kind of metal music — we can't definitively say it was death metal, but it was metal that made us want to die. Our visit found a teenage goth sexy-dancing on the roof and staff members smoking next to the admission line like it was 1990. Our annoyance melted when a vampiric preteen led us into the house. Behind us, an adult ghoul shouted, "Fondle Satan's balls while you walk through his legs!" Done.
Haunted Hell was a lot of fun, and we were impressed by the set right away. Inside, we walked through a garden to the front of a house — a house within a house! — and ghoulish actors greeted us. Haunted Hell takes you to weird places. There's a teenage ghost roaming the site of her car-crash death scene, a darkened maze, a funhouse, a black-lit room with chickens stenciled on the walls (?!) — so there's not a lot of continuity.
As far as scares go, the haunt features pretty good animatronics, a lot of jump-scares and a few surprises. The actors didn't have the most professional costumes or makeup, and some of them were definitely underage, but they made up for their lack of polish with humor and spirit. We went at the start of the season, and the haunt would have benefited from double the actors and more scares.
You should know: You must crawl through a rather narrow tunnel at one point, so if you're physically unable to do that, be warned. (If you decide to leave midway through, you might be heckled by the employees and everyone in line.)
Overall: Haunted Hell wasn't the most professional of the haunts we experienced, but it's good for those looking for a fun night and who aren't in the mood to be completely traumatized.
Beast House 
3976 Dickerson Pike 
$25
Frights: 3.5/5
Delights: 2/5
The Beast House website has a lengthy narrative that claims the house was the site of a hideous murder in 1899. The haunt makes many claims about this tale being "a piece of Nashville history," but the veracity of the claim is dubious. The Scene's resident local-history nerd, J.R. Lind, found no mention of the crime in any newspapers, nor did he find a deed confirming that anyone with the name Isaac Kecham (or anything close to that name) bought or sold any land in the area between 1870 and 1920.
Even so, the story is hardly mentioned at the haunt, save an extremely easy-to-miss sign. A gruesome family murder-suicide is just the kind of tale that amps us up for a night of terror — and you don't have to claim it's historically accurate for that strategy to work. If Beast House leaned more into that story (without taking us for fools!) its effects would be amplified.
We were split on the frightfulness — one of us was pretty freaked-out because the convincingly undead actors touched us without our consent. (Women spend their entire lives strategically avoiding this, so that's a big "No thanks.") The other of us thought the actors were good but relied too much on samey-looking masks. In any case, the jump-scares were abundant, and super-gross surprises lurked around many corners. You can't leave Beast House without first getting through a foggy, disorienting maze.
Beast House offers bonus scares as well. You can pay $10 to jump from a (not very high) balcony onto an enormous air mattress. You can pay $15 to take a shot at the Beast Challenge and win all your money back for the whole night. Or if you're weirdos like us, you can pay $6 to watch someone else do gross things. The Beast Challenge requires that you eat something, drink something and do something.
You should know: You will be touched, and there's just no way around that.
Overall: Beast House isn't for the faint of heart, but it's also not pleasant. Perfect for anyone with a sense of adventure.